Back in the not too distant past there was a period of time called "the good old days." It was a time when your washing machine didn't break every time it was Wednesday, the post arrived whilst you were having breakfast, and the wireless printer didn't exist and thus couldn't ruin your week. Having something you can depend upon is worth its weight in gold and with the vast amount of flooding England has seen of late, a dependable car will serve you well. The Japanese have always had a way with nuts and bolts and this 2016 Mitsubishi Outlander aims to be something very rare in todays world. Dependable.
For 2016 the Mitsubishi Outlander has received an extensive facelift and has certainly
become more stylish as a result. The seven seat SUV wears Mitsubishi's "dynamic shield" front grill which cascades down to the bumper. Gloss black finishes and more intricate lights add a sophisticated modern glaze to the car. It is a machine that also looks proportionally correct with its short overhangs. Our top specification GX4 test car featured some great looking alloy wheels.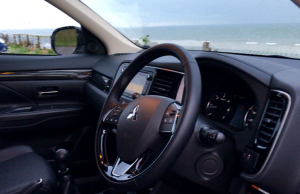 Move inside, the interior has also gone through some changes and now sports more premium materials. A dark wood effect strip runs along the dashboard and onto the doors creating more fluidity in the design than its predecessor. A gloss black centre console matches that of the exterior and houses a touchscreen infotainment system. Access to DAB radio, phone connectivity, and navigation are all gain through this interface. Whilst the screen is responsive, the software isn't the most straight forward to use with many different menus. It is something you become used to, but some competitors do this better. Comfortable leather heated seats provide a high riding perch for front occupants whilst the second row is treated to plentiful head and leg room. A low transmission tunnel in the floor means that all three seating positions can be used by adults. Two more seats can be deployed allowing for a total of seven occupants to be seated. Leg room is limited in the rearmost row, but those seats are fine for children. Open the electric tailgate of this 2016 Mitsubishi Outlander GX4 with five seats in place and you have a generous 591 litres of boot space. For larger cargo all of the rear seats can be folded flat.
Power is sourced from a 2.2 litre diesel engine which produces 148 BHP and 380Nm of
torque. It isn't the fastest SUV out of the box, but its performance is more than adequate. A nice precise six speed manual transmission possesses a set of good ratios for both around town and on the motorway. Increased sound insulation over the outgoing model means that the 2016 Mitsubishi Outlander is much more refined. Within an urban environment this SUV is easy to operate with light steering, good all round visibility, and an excellent turning circle. This car had a reversing camera which made parking even easier. Road imperfections do intrude into the cabin more than expected and through faster bends there is notable body roll. However, head onto a motorway and the Outlander is comfortable and very happy to soldier on all day long. Road noise is suppressed with wind noise only making itself known when you are cracking the whip. 53.3 MPG combined is claimed. Above the heated seat switch is a "4WD" button than enables the Mitsubishi to venture off of the beaten path. The brand has a proven record of being able to handle the rough stuff and this Outlander will happily tackle most things owners are likely to throw at it. Obviously if you need to do some serious mud-plugging then its bigger Mitsubishi Shogun brother is the car for you. Good ground clearance and reassuring levels of traction keeps you in control when Mother Nature decides to callously flood your village.
Whilst this cars PHEV sibling is grabbing all of the headlines and becoming hugely popular for Mitsubishi, this diesel option is for those who regularly trawl the motorways as opposed to sit in city traffic. It still very much has a place in the lineup. The 2016 Mitsubishi Outlander with this practicality, increased visual appeal, and added refinement further strengthens its case. It really does feel like a dependable family car. Hmmm, dependable… That's a word my fridge-freezer should learn.