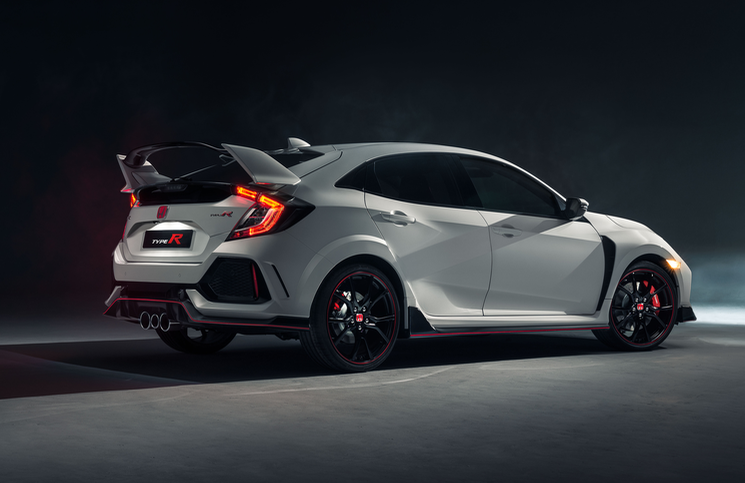 This is the one you have been waiting for… Type R enthusiasts have been screaming for blood, especially as the latest incarnation is set to go on sale in America for the first time. At the 2017 Geneva Motor Show the 2018 Honda Civic Type R has been revealed in finished production form and we have our first official pieces of data on the latest hot hatchback to join the battle.
This car has hardly changed from the prototype that was shown last year as it retains those outrageous visuals. Just like its predecessor, it doesn't much care for what you think. Based upon the 10th generation Civic, the car is already wider, but even more so with these flared wheel arches. An aggressive aerodynamic package incorporates a front splitter, skirts, large rear wing, and diffuser. Notice those small fins on the trailing edge of the boot? They are vortex generators that further manipulate the air around the car. Rather pleasingly, the new Type R has retained the triple exhaust layout.
Under the bonnet is a 2.0 litre turbocharged VTEC engine of which is mated to a 6 speed manual transmission. Total output is 316 BHP and the same strong 400Nm of torque from the FK2 model. Whilst this is only a power increase of 10 BHP, remember that this car is being launched early in the product lifecycle, meaning Honda have likely given themselves some space to grow the model over the years. Past conversations with engineers have suggested that this platform can take more power. Honda are keeping 0-62 MPH, and top speed figures a secret up until the cars launch in the summer.
Honda claim that this car will be the most rewarding hot hatch to
drive on both road and track. Torsional rigidity is a full 38% stiffer than the outgoing model. Front suspension is Macpherson with Dual-Axis Suspension to reduce torque steer. The rear end takes full advantage of the 10th generation Civic's multi-link suspension. A key new feature is that the suspension now has multiple modes in addition to the hardcore +R track mode. Comfort and Sport mode incrementally increase the steering weighting and damper stiffness on your way to full-blown BEAST mode.
Pricing has yet to be announced but expect a small increase over the current Type R.
The 2018 Honda Civic Type R will be sold throughout Europe as before, but will also be available in Japan and the United States of America.
Keep an eye on our YouTube channel for more on the Type R LIVE from Geneva.