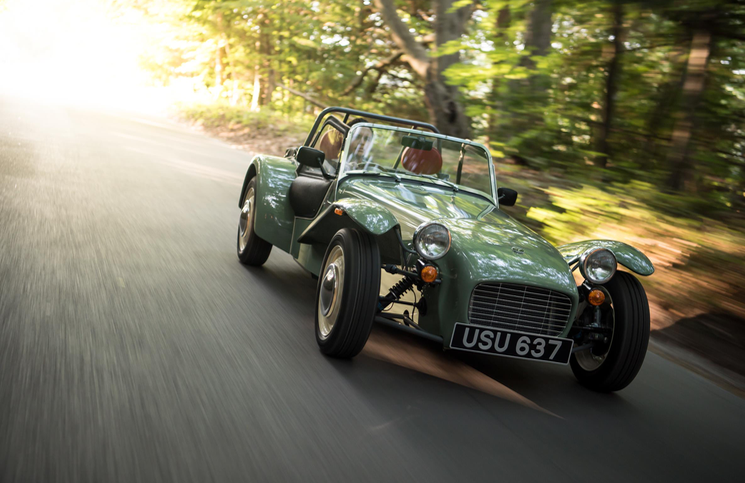 Caterham has built a variant of the Caterham Seven Sprint which was planned in the mid-1960s but never launched. The retro styling of the Caterham Seven Sprint will certainly appeal to Seven fans and also celebrates the '60 Years of the Seven' anniversary in 2017.
The Seven Sprint will be powered by the same 80bhp three-cylinder Suzuki engine found in Caterham's entry level Seven 160 model. "We have always prided ourselves on continually developing the Seven during the 44 years we have been custodian of the model." said Caterham Cars CEO, Graham Macdonald. "But we never wished to dismiss our heritage either and I know there are plenty of Seven purists and aficionados out there who will really appreciate the level of detail we've gone to". The new (old) Seven Sprint even comes with a choice of six original paint colours available in 1966/67. 
The launch of the Seven Sprint marks the beginning of Caterham's '60 Years of Seven' celebrations, which will take place at Donington Park next Summer. This also means that only 60 Sprints will come to UK and European markets.
The car includes a host of nostalgia-inducing features including the chassis being powder-coated grey just like a Series 2 Lotus 7, whilst the suspension and rollover bar are reminiscent of Colin Chapman's original. The original colours team up perfectly with flared front wings, uniquely retro-styled rear lights and polished exhaust silencer. To continue with the 60s feel, the dashboard features a wood effect and the interior is finished off with a wooden rimmed sports steering wheel. The interior panels and Scottish seat upholstery is hand-stitched in the period style and finished in scarlet red.
Costing £27,995, the Sprint has been available to order from September 9 following its launch at the Goodwood Revival.