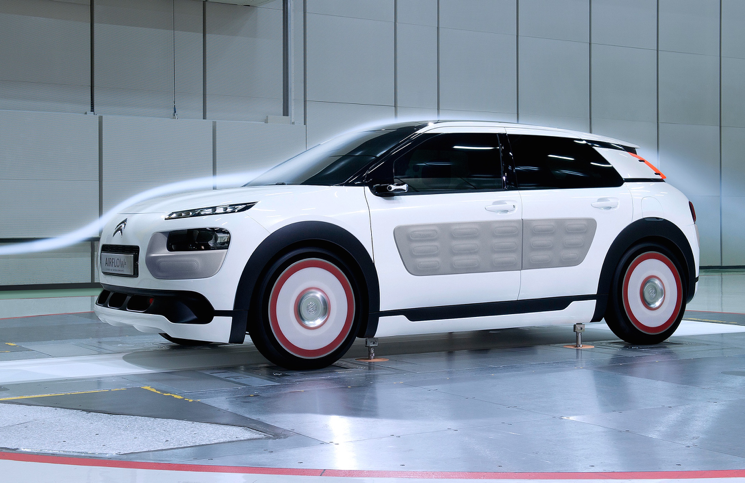 The new Citroen C4 Cactus Airflow Concept has been unveiled at the Paris Motor Show and aims to impress with being one of the most fuel-efficient cars to date. With 20% improvement in aerodynamics, the engine boasting hybrid air technology and lightweight strong materials such as carbon fibre and aluminium all contribute to the Concept being able of achieving a bewildering 141mpg from it's two litre engine.
With fuel prices rising and the media telling us that we are soon to run out of our precious oil, customers are keen to find stylish cars that consume very little fuel. The Airflow Concept looks like it's pulled straight from the future and is sure to ensure people give it a second glance. In black and white the monochrome feel makes it look futuristic but remains subtle and restrained, and the focus on the aerodynamic properties of the car gives it a slick and crisp design.
This car of the future is a huge 300kg lighter than the standard C4 hatchback and weighs in at a mere 865kg, which is a large factor when looking to save fuel. Despite its relatively minuscule weight, the hardy materials that the Concept is made of means it is extremely strong and will be able to withstand heavy impacts.
The current Cactus engine already boasts an impressive 91.1mpg, but a new Hybrid Air drivetrain pushes the figure up by 50mpg, which is about the same as a Mercedes E-class Blue Efficiency gains by itself. The Citroen C4 Cactus Airflow Concept really could be the car of tomorrow and technological pushes in these systems make it all the more likely that machines like this are what we will be driving in a few years time.