Everyone and their mother is pushing their products upmarket at the moment. Everything from the Ford Mondeo to a Mazda 2 has made an effort to polish itself up to become part of this "premium" generation. Volvo are doing the same with their new cars, but instead of just incorporating better materials, they are bringing a whole new ethos to car design. This new 2017 Volvo S90 is not only posher than its predecessor, but also a stand-out character in its segment.
Visually it has a sleek design from nose to tail. Clean lines detail this saloon and a lack of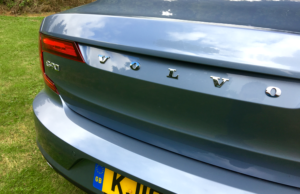 fussiness enables a flowing motion over the body. A long bonnet and prominent shoulders adds character to this elegant machine. Its wide grill, proudly wearing the Volvo badge, sits between the signature Thor hammer lights. The rear end is another highlight with a cascading facia and distinctive rear lights.
However, it is the interior that steals the show. Whilst its rivals recipe for the cabin seem very formulaic, Volvo's Swedish take sets itself apart from rivals. The minimalistic look creates an airy environment, especially in tandem with light coloured upholstery. There is a real sense of quality with neat stitching and contrasting levels to the cabin. A high
centre console divides the front occupants whilst a large portrait touchscreen dominates the facia. It is a very responsive unit and offers all of the infotainment you would expect in a nice ergonomic package. Speaking of ergonomics, the seats in Volvos of the past have always been good, but these are some of the most supportive seats I have ever experienced. There is ample head and leg room for rear occupants, although the middle passenger does have to compete with a large transmission tunnel. Open the boot to find 500 litres of space.
Twist the unique starter knob and this S90's 2.0 litre 190hp diesel engine fires into life. Said unit is a bit gruff under acceleration, but soon settles down once cruising. Other than a bit of tyre noise, the whole driving experience is tranquil and relaxing. An excellent "smooth as honey" 8 speed automatic transmission seamlessly swaps cogs. This 2017 Volvo S90 D4 isn't the fastest car in the range, but 400Nm of torque means that it can make surging progress on the motorway. Well weighted steering means that you can place this machine precisely on the tarmac, and it actually has good body control maintaining composure through sweeping bends.
As well as being loaded with the latest safety equipment the S90 also has something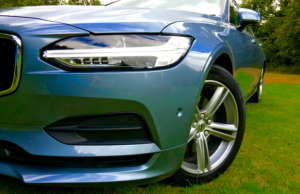 called Pilot Assist. This system uses the radar guided cruise control and is semiautonomous, meaning that it can take control of the steering whilst maintaining a safe distance from the car ahead.
Our first crack of the 2017 Volvo S90 D4 whip has left us impressed. Not only has Volvo proven that they can trade punches with the German "big three" but it also brings with it its own flavour. And in a world where everyone seems to drive a BMW, Audi, or Mercedes-Benz, that is rather refreshing. You can have a new S90 from £32,555.