Until recently, Renault hasn't exactly thrown itself headlong into the bourgeoning crossover market, preferring to stick with the tried and tested family saloon formula after many had all but abandoned that particular ship. However, the unveiling of the fourth generation Clio back in 2012 paved the way for a highly successful first foray into the compact SUV arena. First glimpsed as a concept at the 2011 Geneva Motor Show and subsequently debuted in production form two years later, the Renault Captur crossover took the latest Clio's underpinnings and jacked them up a notch. A simple formula; but an extraordinarily effective one.
Four years and 215,670 sales later, the Captur is officially the top-selling subcompact crossover in Europe. With the worldwide thirst for small SUVs continuing unabated, Renault has revitalised its family favourite in time for this year's Geneva Motor Show.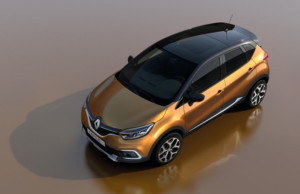 As the old adage goes, 'if it ain't broke, don't fix it', and to this end there's little surprise that Renault are viewing  the 2017 update as more of a spring clean that a comprehensive overhaul. Indeed, powertrain options remain set in stone; there's no new engine to accompany the Captur's existing 1.5 litre dCi, 1.2 litre petrol or smaller 0.9 litre TCe.
Instead, emphasis has been placed on customisation and exterior tweaks. The Captur's two-tone body colour inventory now encompasses 36 separate paint options, whilst on the inside you'll have a further seven interior personalisation packs to mull over.
Full LED headlamps and tailamps are now joined by a pair of C-shape daytime running lights housed in the front bumper. Elsewhere, keen-eyed observers among you may spy a number of selected hand-me-downs from the Renault Kadjar mid-size SUV. Upgraded to more closely resemble its bigger brother, the Captur's grille has been subtly altered and now sports a distinctive chrome strip whilst both front and rear the bumpers get a new pair of skid plates. Anyone shopping at the higher end of the market can equip their newly refreshed Captur with 17-inch wheels and even a fixed panoramic glass roof.
The 2017 Renault Captur premiers on 7th March at the 2017 Geneva International Motor Show. Although there's no official word as yet, expect the first few models to roll off the production line and into to showrooms towards the Autumn.