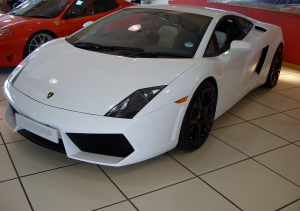 The Gallardo has been around for a while now and to be fair it's starting to show it. This does not mean it is to be overlooked when buying a car such as this, oh no. By getting old we do not mean that it has fallen behind its rivals; on the contrary, it's still a remarkable peace of engineering that continues to get under the skin of Ferrari. The only problem is that it is rapidly becoming overshadowed by its big brother the Murcielago. It's not just the V12 engine that it craves but also that very special edition Reventon styling. Imagine giving Lamborghini's already raging bull razor sharp teeth from a great white shark.
Conveniently Lamborghini have addressed this issue by doing just that! This is the Gallardo LP560-4. Yes it is probably the most undesirable name ever given to a car but thankfully it has some rather special redeeming features. The body has been given the Reventon treatment to give it a very aggressive posture and some rather pointy rear lights. Remembering this is Lamborghini and not Ford the transformation is much more than aesthetic.
This redefined monster has a V10 heart that bellows all the way to 8,00RPM. The top speed is on the windy side of 200MPH and with 560BHP it will get you there with the immediacy of a leopard chasing a gazelle. Despite the power hike ride comfort and cabin noise is minimal. This car like the Audi R8 is a car you can live with everyday. That is if you have never come across a speed bump, and enjoy making 12 trips to the shop just to get a bag of potatoes home. But let's not forget that this car was not built to be practical, but to make Ferrari's life that bit harder; and you know what… It does just that.
Other than the new tower of power that sits behind your left ear, Lamborghini have use the age old proverb of "If it isn't broken, don't fix it!" And with the Gallardo being the manufacturers biggest selling bull and a huge pain in the arse for Ferrari, all other changes are superficial. All in all we love this refresh more than its predecessor because, to put it simply, its more of the same!