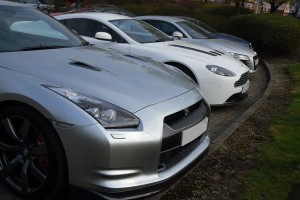 The motor industry can be likened to the Mad-Hatters tea party. Its hallucinogenic nature of highly anticipated car launches mixed with some disappointing flops and a side order of biblical test drives. This makes for an intoxicating cocktail. It's this crazy rollercoaster that keeps us addicted to its goings on and new directions, something all "petrol heads" are fascinated by. What defines somebody as a petrol head? Someone who looks at a car, not matter what one, and not only sees the car as one object but thousands working incognito to form a distilled potential just waiting to be released. It is these people who know what I'm writing about at this very moment and if you don't have a clue, you're not one…
About three years ago I decided that it was this industry that holds the key to my future, that or too much of my knowledge is being taking up by a topic irrelevant to my career. So I decided to do something about it, motoring journalism seemed appropriate place to hang my hat. Motor shows, secret new models and blasting every last horse power out of super cars, it's exactly where I wanted to be. However, life is never that easy and being so unknown to the industry and so inexperienced, I couldn't find a starting point. So I decided to go it alone, and from the point onwards Inside Lane came into existence. At first it was more of a fan site, but then evolutions came thick and fast with new features developing on a regular basis. Gaining content was an uphill struggle as I went from door to door of various showrooms asking for test drives, more often than not being met by discerning looks and the reply of no.
But here we are today; proof that sticking at it will pay off in the end. Inside Lane has grown tenfold with new additions to the team, a magazine, podcast, live commentary and the like. We no longer scurry to dealerships but instead they come to us offering their latest and greatest. Motor shows are met with VIP entry and access to content that is under embargo. A realisation of a three year dream has become much more than I could have hoped for. Help from various people and estranged places such as a 6thform college named Twynham who aided us immensely.
However the biggest thanks goes out to you. Just by you reading this, weather you bumped into Inside Lane on a whim or regularly visit, it's you and people like you who keep us going. So thank you for your downloads, listens and tweets. We may be out there reviewing some of the most amazing machinery known to man, but it's you who gets us there.
I'll stop the sentimentality now, and close with this. If you what to get somewhere you desire you're going to need three things; support, loyalty and motivation. Keep that in focus and you'll get to the top. Oh and in case you were wondering, being a motoring journalist, its dam cool!