Frankly, competition for highlight of the 2017 Geneva Motor Show has been exceedingly tough. Lamborghini, Ferrari and Aston Martin have all debuted some biblically good machines at the Swiss concourse but can any of them steal the thunder from McLaren's newest baby?
The second generation of the Woking-based powerhouse's fabled Super Series is upon us and spearheading the charge is the successor to outgoing 650S. These are the first official images of the all-new McLaren 720S in all its carbon-fibre glory. As the name suggests, performances figures hit even more dizzying heights.
Armed with a new mid-mounted 4.0-litre twin-turbo V8 engine, the 720S is faster and lighter than its much-vaunted predecessor. Packed with an absurd 710bhp and laying down 568lb-ft of torque, the Geneva star will catapult you from 0-62mph in under 3 seconds and hit the 124mph mark in a wrinkle-inducing 8 seconds. At full velocity, and with a suitably lengthy stretch of tarmac ahead of you, the 720S will charge up to a top speed of 212mph. Jam on the anchors, and this colossus stops dead from 124mph in 4.6 seconds and a rather large plume of tyre smoke.
Following in the McLaren tradition of monocoque-based monsters, the all-new 720S sheds some pounds over its forbearer thanks to a redesign of its carbon-fibre tub and upper structure.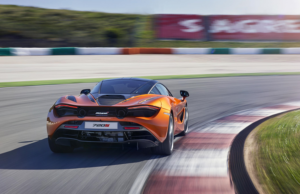 The lack of traditional air intakes on the car's flanks has been rightly singled out as the headline design tweak by McLaren designers. Engine cooling is instead provided by the 720S's unique 'double-skin' aerodynamic doors. These channel air through inlets to the high-temperature radiators that quench the mid-mounted engine's thirst for cooling air. It's a theme we're likely to see replicated on future Super Series models. The aluminium chassis, meanwhile, is kitted out with new suspension as well as upgrades in the tech department, of which proactive chassis control and power-assisted, electro-hydraulic steering take centre stage.
Despite the mind-boggle numbers, don't think that the McLaren Super Series ethos is entirely performance-focused. The P1 is, of course, a biblical hyper-car precisely because of its single-minded, uncompromising quest for speed. Nothing else matters, and frankly, that's why you couldn't live with it on a day to day basis. Whilst its Super Series siblings are hardly ideal day-to-day errand-runners, they do embrace some of the creature comforts that the P1 simply chews up and spits out.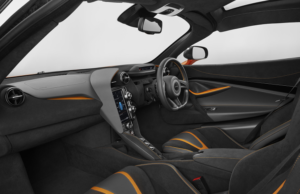 With this in mind, rather than something akin to an intergalactic space capsule, you'll find the 720S's interior a pretty sumptuous environment. Fine leathers adorn the sports seats and dashboard, whilst machined aluminium fixtures and fittings give a visually classy finish. Similarly, the 720S's infotainment system is as comprehensive as ever and accessible via McLaren's shiny new driver interface.
The 720S lights the touch paper for the Super Series revamp that will see all of its sister models updated over the coming years. Already available to order from McLaren retailers, first customers are scheduled to receive delivery of their machines in May.  All three trim levels, Standard, Performance and Luxury, are complemented by an array of option packs. All in, a fully tricked-out McLaren 720S will cost you in the region of £208,000. That's money well spent in our books
Take a look at the video below to see the new 720S in action on the track.