It has almost fallen into myth and legend. The FN2 Honda Civic Type R Mugen is a machine so rarely seen that many have begun to question its very existence. On our Type R road trip across Europe we encountered this fabled creature and managed to grab the keys. People have requested more on the motoring equivalent of Nessie, and on that day the Hungaroring served as our Lock Ness.
Whilst the standard FN2 Civic Type R was a bit of a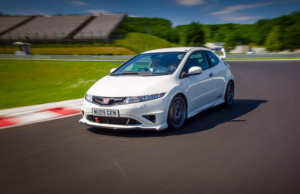 disappointment, thanks to only having 1 BHP more than its predecessor, the Mugen is a fully tuned performance tool. The boisterous external aerodynamic package is clear for all to see. Front splitter, huge rear wing, and exhaust pipes large enough to be mistaken for artillery. It is pure Japanese lunacy. Making clear intent to punch above its weight, this Type R talks the talk.
Inside it is similar to the standard Type R but does include a set of great sports seats and a gauge cluster. Our example seated five and retained the large boot possessed by the car on which it is based. I've always liked the spaceship styling of the FN2 and I think it has only got better with age. There was a track pack option available that included Recaro seats and harnesses.
Beneath its skin is a series of precisely engineered modifications. Its naturally aspirate 2.0 litre heart has received extensive surgery and produces 20% more power than the standard Type R. 237 BHP comes thanks to new pistons, camshafts, intake, exhaust, and ECU. 0-62 MPH takes under 6 seconds and the Honda Civic Type R Mugen has a top speed of over 150 MPH. This engine needs to rev to unlock its full potential like all VTECs of this era, but with a redline of 8,500 RPM its banshee scream is intoxicating.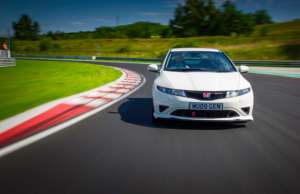 Its suspension is 10mm lower and is certainly firm, but this stiff setup is perfect for track use. A lack of body roll and responsive steering results in a rapid change of direction that makes it feel focused. Between the front wheels is a limited slip differential which means this car is pretty well behaved and can maximise the grip on offer. The Mugen isn't quite so polite when it comes to low speed driving as its noise levels remain high. Clearly the focus is on performance and not refinement. There is good communication between man and machine whilst the whole package wills you on to go faster. It's delicious 6 speed manual gearbox is a joy to use. 20mm larger brakes also means you can temper the increased performance.
Just 20 of these cars were hand built for the UK at a slightly eye-watering cost of £38,599. This track focused pocket rocket is a mythical creature in every respect except one. It actually exists.