The Porsche 911 Turbo S and McLaren 570S are two turbocharged titans. Both supercars contest for class leadership, but now we have driven both of them, which is best? Don't forget you can check out both cars independent reviews on the YouTube channel. But without further ado, let's kick off this comparison.
Each car cuts its own distinctive shape into its surroundings. The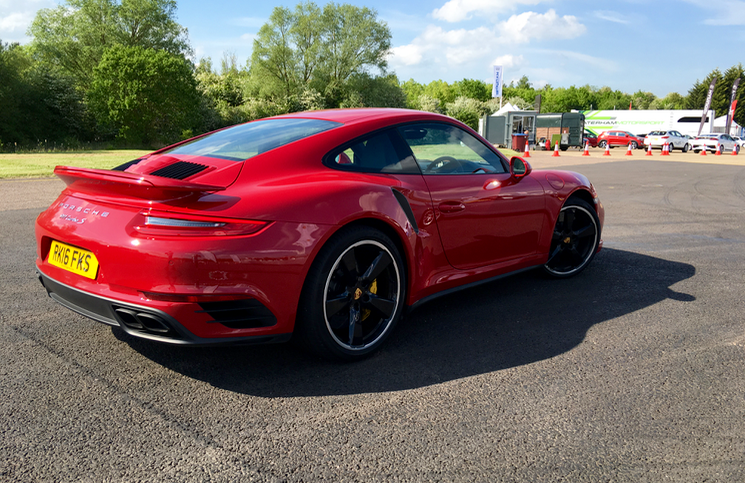 McLaren a flowing silhouette from nose to tail, the Porsche a slightly more muscular affair thanks to its wide hips. Sticking with the Turbo S a moment, its large intakes detail that classic 911 shape. Rounded headlights add character and the car overall presents itself as the flagship of the range. The McLaren 570S is certainly more elegant with flying buttresses and a sloping rear deck. You can clearly see where the airflow is ducted and channeled around its body forming some rather unique styling traits. The visuals are subjective and so I'll leave judging which is best to you.
Inside, the Porsche 911 Turbo is a great example of ergonomics and high quality materials fused together to form an excellent cabin. Seating four it is undoubtably more practical than the McLaren, and its touchscreen infotainment display is also superior. The 570S is more minimalistic with a clean design that is functional. Despite only seating two in its carbon monocell, it actually feels rather spacious. All round visibility bests not only the 911, but just about every supercar on sale today.
When it comes to the statistics things get interesting… The McLaren 570S is powered by a mid-mounted 3.8 litre twin-turbocharged V8 engine producing 562bhp. Power is then sent to
the rear wheels via a 7 speed dual clutch transmission. 0-62mph takes 3.2 seconds and it will go onto a top speed of 204mph. Back in the blue corner, the Turbo S kicks out 10bhp more with 572bhp and 750Nm of torque. A 7 speed PDK gets the power to all four wheels for a 0-62mph time of just 2.9 seconds, although this has proven a very conservative figure. Top speed just edges the 570S by 1mph. It is cheaper too at £145,773 vs £148,150.
Claims on paper are all well and good, but what are they like in the real world? Well, there are not yet words in the English language that can adequately describe the launch of a Porsche 911 Turbo S. It is eyeball popping, brain melting, internal organ shuffling, undeniably fast. And that initial momentum is unrelenting even when the car is well into triple figures. High grip levels and rear wheel steering means that you can tackle challenging roads whilst exploiting the performance the car has to offer. Those carbon ceramic brakes do a damn fine job too. The McLaren is also very fast but feels less hunkered down. The 911 can feel like it is driving on rails whereas the 570S  moves with the road surface. With steering bristling with feedback and a sonorous soundtrack, it is the more engaging car to drive. There is a tad more turbo lag in the British supercar vs its German rival, but once spooled up it pulls like a train. It feels lighter and more eager to dart towards an apex. Don't get me wrong, both cars are engineering marvels, but the McLaren is the one that puts the biggest smile upon my face.
The Porsche 911 Turbo S is the most practical, best to live with every day, and likely the fastest in a real world environment. But it does feel like it could achieve all of this with or without you, whereas the McLaren requires you to be the organic part of the machine.