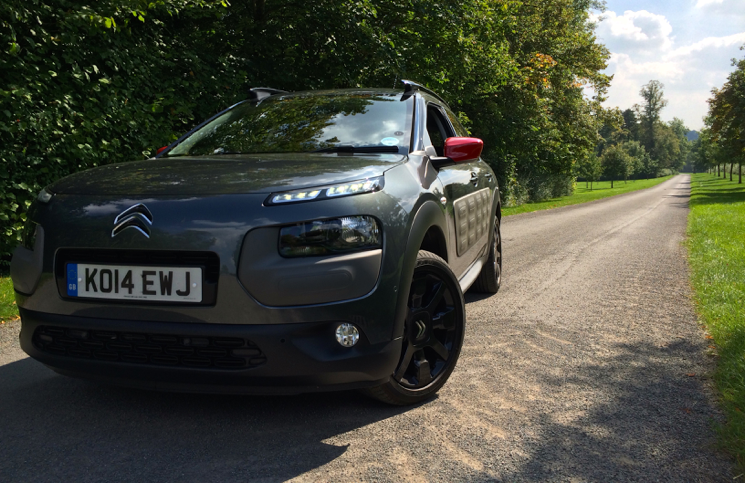 The Citroen 2CV is a real power to the people icon. At a time when many in France still relied upon horses and were trying to recover from the Second World War, the 2CV in 1948 proposed a practical, cheap to buy and even cheaper to run
alternative. All of a sudden people could afford to become mobile and in total Citroen produced over 3.8 Million of these cars. Make no mistake, this was France's Mini. The revolution continued all the way through to 1990 when production ended, however, the French company say that their latest model harks back to its affordable and minimalist forefather. This 2014 Citroen C4 Cactus FlairPureTech 110 demonstrates why.
Looking more like a concept car or modern sculpture at the Louvre in Paris, the Cactus has to be one of the most unique looking car since the original Fiat Multipla, only this can be considered attractive. Our test car exhibits a slightly more restrained flavour of aesthetic over a "hello yellow" counterpart, we shall be road testing the highlighter inspired colour scheme on another model in the coming weeks, but this Shark Grey still shows what an incredibly different car this is. Its highly positioned band of LED lights sits above the headlights, breaking up the conventional one piece design. Contrasting the bodywork are these rather alien "AirBumps" which serve to not only make this C4 Cactus something you stop and stare at, but protect the car from minor collisions with objects. Factor in some red detailing and this cars 17 inch black alloy wheels, you can't help but commend Citroen for being so bold.
The cabin is minimalist in a bid to save weight, not too dissimilar in ethos to the 2CV, but it is by no means conservative in design. A 7 inch touchscreen display is the landmark on the console. From here you control everything from satellite navigation to the air conditioning leaving the remainder of the space to contribute towards the cabins airy feel. This "screen does all" tactic also spears into the instrument panel which is formed from a single rectangular screen displaying speed, mileage and fuel levels. The interior of this car was top specification Flair meaning that two large cloth and leather seats comfort passengers in the front whilst the rear bench supports three. There is plenty of space in the back, however, said rear bench folds flat as one as opposed to a more practical split-fold. Thanks to a very clever thermally insulated panoramic roof, there is loads of light let into the car whilst uncomfortable temperatures are kept at bay. Other neat features within the cabin include luggage inspired leather door handles and stylish dash-mounted satchel-styled glovebox.
This 2014 Citroen C4 Cactus FlairPureTech 110 is powered by a 1.2 litre three cylinder turbocharged petrol engine. Whilst that might not seem like very much for a family car, this unit
performs where it counts. Producing 110HP and 151lb ft of torque, of the petrol engines on offer this is the one to go for. With maximum torque available from just 1,500rpm it is ideal for the urban sprawl when leaping out of a junction in a timely manor means the deference between getting the kids to school on time or not.  A claimed 60.1MPG is pleasing and a benefit of the car only weighing 1,190KG. Another plus of carrying less weight is that the Cactus handles surprisingly well, especially considering smoothly it rides. You can throw it into a corner and body roll is kept in check whilst you capitalise on the high levels of grip. Keep the momentum up through the corners and the Citroen Cactus is actually a rather enjoyable drive. The steering is well weighted but could do with more feel for increased precision. My only other criticism of this otherwise pleasing car is that there is some wind noise once you get up to speed. Perhaps on motorways this will give you the excuse to try out the excellent sound system.
When all is said and done the 2014 Citroen C4 Cactus FlairPureTech 110 is a very likeable car and if you are after something that stands out in the supermarket carpark, then you would have to try very hard to trump this. CO2 emissions are at just 107g/km making this model green, metaphorically, we are not colourblind. This Cactus came to £19,625 with every option on the list ticked. You can have one from £12,995 but we would advise stepping up to this turbocharged engine as the naturally aspirated option does have to be worked quite hard to make swift progress. Is it a reborn peoples car? In a way it is… Whilst it is not so much a means of ultra cheap transportation like the 2CV, it does encourage people to be more adventurous with what they drive. Who knows, it could start a revolution all of its own if it catches on.