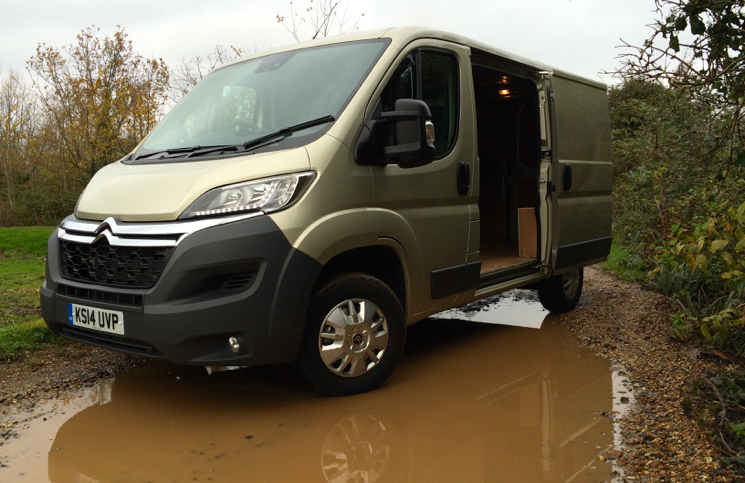 It is a tough old life for a van. Never has the term "workhorse" been more appropriate with these vehicles are responsible for transporting everything from your shopping to the neighbours new double glazing. Thousands of miles, millions of
door slams, several spilt flasks of tea and storage for more copies of The Sun than you can shake a stick at must all be endured. Vans are very much machines of function and that is exactly what this 2014 Citroen Relay 30 L1H1 HDi 110 brings to the table.
Ok, it is no oil painting, I will give you that but this new Citroen Relay certainly isn't the worst looking van on the market. For 2014 it receives a new face which looks far more professional than its predecessor. A larger chromed emblem stretches across its grill taking its appearance upmarket. There is still the vast amounts of plastic cladding you would expect on a working vehicle but this year it details the Relay in a more stylistic manor. Angled headlights with integrated LED daytime running lights along with wheel trims add to this vans aesthetic. Its Golden White metallic paint is a questionable choice, but rest assured that more colours are available. As mentioned, it isn't the most handsome panel van, but then looking for aesthetic joy in this segment could be likened to looking for tartan paint.
In the cabin of the Citroen Relay you sit up high with a domineering view of the road ahead. Seating is three abreast and its large front windscreen allows for a light interior. A nice byproduct of this vans design is that it is easy to fit into tight spaces thanks to an almost flat nose. Its broad dashboard has plenty of storage spaces including two glove boxes and an overhead shelf can also be found. An optional touchscreen display that was fitted to this van gives you access to infotainment, however satellite navigation is not integrated and instead sits as a separate unit next to the driver. Whilst its location is practical, it does feel like a bit of an afterthought in terms of design. The interior as a whole feels durable which is very important considering just how much it will have to put up with throughout its life. Visibility is good thanks to large side mirrors and a reversing camera which is mounted high for a better rear view. Moving into the load space and either opening the two large rear doors or sliding rearward the side door reveals a vast area. 8m3 of potential is at your disposal which is absolutely colossal! A high roof, even on this standard size model, enables the loading of tall objects and a complete wooden finish puts it a step ahead of competitors. There is also a 12 volt socket in the back. The payload can total 1,155KG.
This 2014 Citroen Relay 30 L1H1 HDi 110 is powered by a 2.2 litre 110HP diesel engine, 250Nm of torque is more than enough to get this big van into motion with a full load bay, but heavier
cargos might be better suited to other more powerful options. Sending power to the wheels is a six speed manual gearbox which sports good ratios, however, the change itself can feel a bit cumbersome. Response from the engine is positive although under heavy load its diesel drone does protrude into the cabin. At low speeds the Relay van deals with bumps and ruts rather well and is wide enough to straddle most speed bumps. The ride does become a bit choppier when encountering high frequency road imperfections, but the trade for having such a suspension setup is that it doesn't roll in the corners nearly as might as you might expect it to. For such a tall vehicle that is a comforting tribute to have. The brakes have also been upgraded over the previous model and are very capable of arresting the vans progress when required. Its range on a full tank of diesel is commendable and means that you wont be forever refuelling. We managed to return 31MPG over a combination of environments in our time with the Relay. CO2 emissions sit at just 180g/km.
As a machine of purpose the 2014 Citroen Relay 30 L1H1 HDi 110 does well for itself improving upon its predecessors in every department. There are many variations of this van to choose from and so there is likely a body style to suit just about every job. Our test van came to a reasonable £20,205 before tax making it good value. With the promise of low running costs  from Citroen, the Relay is sure to attract many.