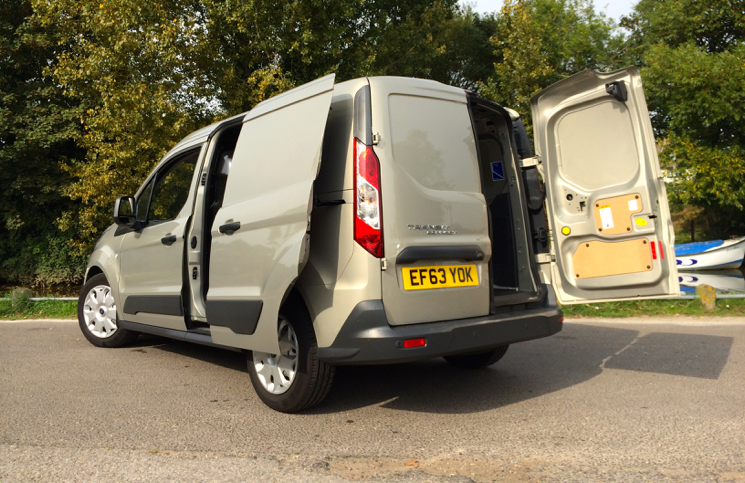 Since 1965 the Ford Transit van has been the backbone of Britain. Transporting everything from tropical plants for your local garden centre, to cold hard cash when it proved a popular getaway vehicle for career criminals throughout the 70's.
Odds are you come into contact with one thing or another on a daily basis that has been in aTransit at some point. So what makes them so popular? Aside from their inherent load carrying capacity, there is a variant of Transit van for every occasion. High tops, long wheel base, short wheel base, tipper, minibus, chassis cab and the list goes on. There are more variations and customisations than dishes on your average Chinese takeaway menu! We have been testing the 2014 Ford Transit Connect 1.0 SWB, a van that could be the perfect business partner.
Being perfectly blunt, vans are never usually a visual picnic. They are machines of function and so their hard boxy lines are not there to please the eye. However, the new Transit range has a adopted a similar family face to that of the blue ovals cars making them look rather premium. This Transit Connect has to be one of the most stylish small vans I have come across. Its large ovular grill and angled headlights gives it character that is often missing from vehicles in this segment. A definitive shoulder line runs down the length of the van which is also detailed with a window shaped contour. Black trim also helps reduce the slab-sided visuals innate to vans. In Trend trim our test car lacked alloy wheels, but ultimately in the real world how many businesses will have them as a requirement?
The cabin of this 2014 Ford Transit Connect 1.0 SWB is surprisingly car-like. In fact if you are familiar with the current layout of Ford cars you will feel right at home in this Connect. The "mobile phone" keypad sits in the middle of the console whilst blue details on the instrument cluster make a nice change from the usual red. Even with the bulkhead separating the cabin from the load bay, the Connect never feels claustrophobic as it has a high roof and large windows. The drivers seating position in natural and in total it can seat three, however, the middle passenger will find themselves with limited space. A big problem with a lot of vans is rear visibility. If you have a panel van there is no rear window and so reversing can be a pain. This Ford included a £300 option that is well worth having. Looking at the rearview mirror you wouldn't suspect it to do anything other than show a reflection, but select reverse and from nowhere a rear view camera appears within the frame. It was both impressive and incredibly useful for reversing around corners. Another useful feature is the pair of rear doors. The double doors open wide to begin with, but push another button and they can swing open 180 degrees allowing for easy loading of large objects. A sliding door on the
passenger side also features. As for capacity, the rear load box is 1,753mm long and 1,226mm which is large enough for two Euro pallets. Useful floor tethers and LED lighting furnish the carbo area. We managed to fit a fridge-freezer in the back along with a whole horde of other things packed around it. For a small to medium sized business this is a versatile load space.
This specific 2014 Ford Transit Connect is powered by the award winning 1.0 litre EcoBoost petrol engine paired to a 6 speed manual transmission. Hold on… A workhorse with a 1.0 litre engine, is not a bit on the small side? Well, no actually. This little three cylinder engine produces 99BHP, and thanks to the turbo, enough torque to get the job done.The engine is very responsive and does not feel in any way sluggish. You could even mistake it for a 1.6 litre unit. Only when loaded to the roof and making an overtaking manoeuvre on the motorway do you ever feel it needs more power. Something this van does very well is handle. Turn in to a corner and it will cling to an apex as well as a Fiesta. There is some body roll, as you would expect, but there is plenty of grip to exploit. Steering is precise and well weighted. The gearbox has good ratios for about town and the inclusion of a 6th gear means it isn't revving its pistons through the bonnet on the motorway. Producing just 129g/km of CO2 means that it is cheap to tax and a real world 40MPG, even when fully loaded, is not to be sniffed at in this class.
The 2014 Ford Transit Connect 1.0 SWB is an exceptionally strong product and one that other commercial vehicle manufacturers should be wary of. Our Transit came to £15,640 with all of its options, but this model can be had from £14,150. This little van has proven itself not only to be well rounded, but also well priced.