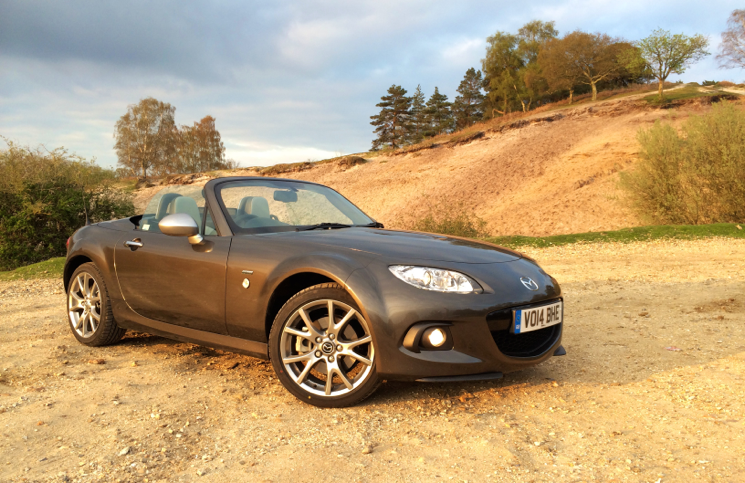 Summer is indeed in the city and whilst the last of the honestly biblically bad weather Dorset has been experiencing moves on, I was delighted to find a convertible in my driveway. Blue skies, not a cloud in sight and a temperature I would describe as "toasty" presents the perfect environment to evaluate this sports car that is celebrating 25 years since the original MK1. The Mazda MX-5 has endured where other affordable sports cars have not. I actually own the original car and adore it for its purity and driver feedback, the question is, has Mazda kept that delicious recipe the same?
Our test car is a 2014 Mazda MX-5 2.0 Roadster Coupe Sport Venture Edition meaning it is yet another of this third generation MX-5's almost endless array of special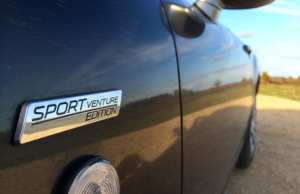 editions. The Sport Venture consists of contrasting door mirrors, heated stone leather seats, 17 inch alloy wheels, this unique "Titanium Flash" paint and the obligatory special edition badging. Fitted with the 160BHP 2.0 litre engine and retractable hardtop this car came to £22,695.
This MK3.5 car still retains its cheeky fun loving appearance that the MX-5 has possessed throughout its life. The big open grill and flared wheel arches give it character whilst the small proportions of the car foreshadows its nimble handling characteristics. With either the roof up or down the Venture Edition appears handsome, yet slightly understated as most Japanese design is. The alloy wheels, matching door mirrors and chromed door handle promote a premium quality to this model over the standard car.
The interior is far more spacious than what you would imagine from looking at it externally. Although the cockpit is packed snugly around you and your passenger, it doesn't feel cramped with plenty of head room and good adjustment in the seat. Mazda have got the driving position spot-on with the MX-5. You sit low with the steering wheel at your chest and the gearstick just a small movement away. Its seats hug your ribs and thighs with their bolsters and on colder days their electrically heated function will keep you nice and warm. Although very function, the console is beginning to look a bit dated now as they are relatively unchanged from the MK3's introduction in 2005. A 6.1 inch display sits flush providing access to satellite navigation, bluetooth devices and audio. This touchscreen unit is user-friendly being easy to navigate, however, with the roof down on a sunny day the direct glare makes it difficult to read. Its aforementioned roof is stowed in a cubby behind the seats taking up no more space than the traditional fabric top. Its transformation is complete in just 12 seconds.
Turn the key and bring that 2.0 litre engine to life. As with every MX-5, the power is at the top of the range which means that this petrol engine gets a good workout.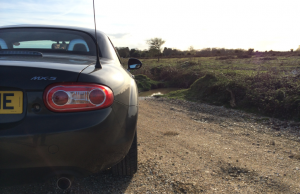 Pushing the car to its redline educes a very satisfying noise that is shot out of its dual exhaust pipes. Swapping cogs is about as rewarding as it gets via its 6 speed manual gearbox. The short mechanical throws add a level of driver involvement that is missing from many cars on sale today. Acceleration is progressive but most noticeable above 4,000rpm. A responsive collection of pedals at you feet are a "must" for any sports car and the MX-5 ticks the boxes with a thickset permanent marker! Its responsive throttle and excellent brake feel work hand in hand allowing for maximum confidence when pushing the car hard. Heel and toe shifts into tight bends reveal the mosquito-like change of direction the little car harbors. Steering is sharp and well weighted making the MX-5 a joy when leaping from corner to corner like a baby deer. The car is an absolute treat to drive on country roads, something that is multiplied when the roof is down and the weather is good. Give the throttle a stab upon corner exit with traction control off and the back end is more than ready to come out and play. Drifting the car, if you are into that sort of thing, highlights the brilliant balance of the chassis. Settling down from more playful driving allows the driver to appreciate the relatively compliant suspension, remembering it is a sports car and not a Roll-Royce. At motorway speed the ride is smooth and the larger engine doesn't need to be corralled into action as much as the smaller 1.8 litre car. Wind noise is the only complaint on long journeys as otherwise the 2014 Mazda MX-5 2.0 Roadster Coupe Sport Venture Edition is a comfortable way to get around.
25 years on and the Mazda MX-5 has still got it. Its level of connection to the driver is what defines it and not only makes it the most involving in its class, but also puts some other much more expensive roadsters to shame. This Venture Edition is well equipped and, in the grand scheme of things, quite good value for money. So far it has been three successes in a row for Mazda and the MX-5. We can't wait to see what they come up with next for the all-new 2015 car.