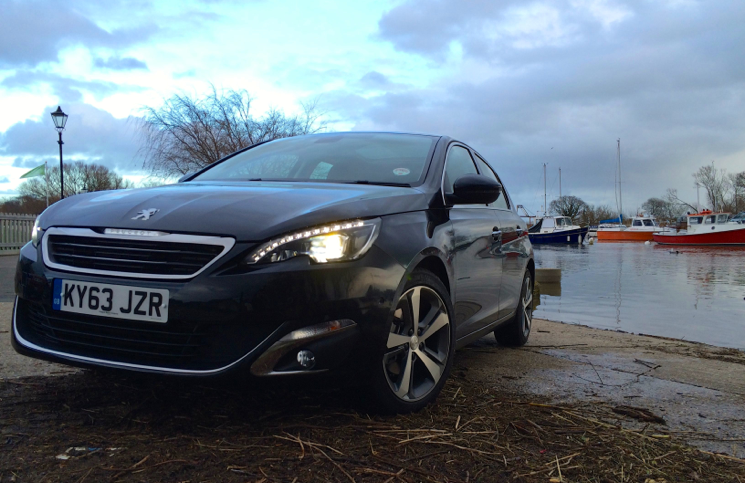 The small family car, or C-segment, has really upped its game over the past few years. With fierce competition amongst brands in Europe competing for sales, the quality of their products have become greater than ever before in this continual game of oneupmanship. Peugeot are undergoing something of a revolution after disappointing past sales. Their new products aim to compete with the best cars in their class with a real emphasis on a perceived premium nature. Entering the C-segment fight is the new Peugeot 308, a car that must do battle with the likes of Volkswagen's Golf and Ford's Focus.
Peugeot designers are on something of a roll with the 208 and 508 both being fine looking machines. The 308 continues that trend promoting an upmarket appearance within a well proportion shape. Definitive character lines
and these unique alloy wheels on this Allure model make it stand out from the crowd. Bold LED light design in tandem with tasteful amounts of chrome trim gives this hatchback a rather smart and mature demeanour.
This specific Peugeot 308 is the 1.6 litre THP 125 petrol engine with, you guessed it, 125BHP. In Allure trim this car starts from £18,595 but our test car has been treated to some toys from the options list such as; metallic paint, panoramic glass roof, keyless entry, cruise control, as well as leather heated and massaging seats. The total cost comes to a rather princely £21,855.
Thankfully from the moment you get into the 308 it immediately feels like a car that costs over £20,000. As a long term purchase the all-singing all-dancing body hugging leather seats are well worth their money. They are beautifully upholstered and supportive in all of the right places offering a comfortable place to sit for long periods of time. The
dashboard architecture is noticeably clutter free with only a few buttons for things such as the heated windscreen on offer. All of the cars other features are accessed via its touchscreen display that dominates the interior landscape. The responsive infotainment unit houses everything from air conditioning settings, DAB radio, access to your phone and even systems such as the parking sensors. This Peugeot 308 Allure 1.6 THP 125 panoramic roof allows plenty of natural light into the cabin giving it an open airy feel. However, in the back whilst head room is good, leg room is more restrictive than competitors. The boot is of a good size and will happily swallow the weekly family shop, but again some competitors do offer more space.
Peugeot, as I'm sure you will have seen from their adverts on T.V., are promoting the idea of their cars being more involving to drive. So how does the 308 fare? With the push of a button the 1.6 litre petrol engine hums into life. From within the cabin the engines noise is hushed and refined. Setting off you immediately notice the small size of the steering wheel. With the instruments positioned above the wheel its decreased size along with a fast steering rack makes the 308 feel nimble. Quick changes of direction in a crowded town
and a very good turning circle instantly makes it sound urban companion. Visibility is good all around and with technology such as reversing camera and blind spot  detection on board, it makes going about your business safe and easy. On faster roads the 308 maintains its composure and reveals itself to have good levels of grip and brakes with high levels of stopping power. Thought the steering doesn't offer loads of feedback, its quick responses combined with the planted nature of the car makes it enjoyable on twisty roads. The gear changes from its 6 speed manual box were pleasant and whilst this model of 308 isn't overly fast, it was enjoyable to take up to the redline extracting maximum power from the engine. On motorways the new Peugeot 308 is easy to settle down in for long journeys. The ride is smooth, wind and road noise is minimal, the car is very happy to cruise all day long. In a combination of real world driving conditions we managed to get 37MPG out of the 308.
The 308 is a very big step in the right direction for Peugeot. This car is of a higher quality, more fun to drive and better focused than its predecessor in every respect. It is clear that the French companies new model range is very serious about taking on the best of the bunch. In my eyes the 308 only really fires a blank when it comes to its price. There are a few hard plastic on show and though Peugeot are aiming upmarket, it does little to undercut the price of competitors. That said, the 308 does feels like a premium product and so maybe warrants its cost.