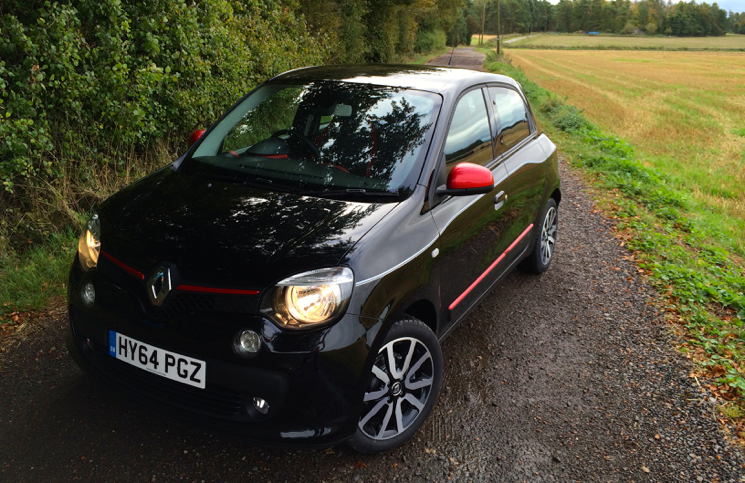 Many brands attempt to defy convention in a bid to stand out from the crowd. Dyson's AirBlade hand dryer is unlike any of its competitors with its unique design. Retro fridges, unusually colour smartphones, new world foods, they all grab our
attention by being different. The Renault Twingo was a cracking little car that revealed itself to be fun to drive within in a cheeky city car package. The all-new 2014 Renault Twingo Dynamique ENERGY TCe 90 hopes to recapture that but in a way that is different from other manufacturers.
This new Twingo actually has two things in common with a Porsche 911. It is rear engined, with power coming from under the boot floor, and also rear wheel drive. The reasons for doing this are threefold… Firstly, the car is 10cm shorter than its predecessor yet 33cm larger in terms of interior space. Then there is this cars astonishing turning circle which allows for the front wheel to be set at 45 degrees. Finally there is the inherent increase in traction that putting the weight of the engine over its powered rear wheels brings.
Our test car was the 898cc 90HP Dynamique ENERGY model. Endowed with the "Techno" design package, this Diamond Black car was neatly detailed with red trim. The compact shape and self-assured stance of this 2014 Twingo is eye catching and with the multitude of customisation options there will likely be something for everyone. Funky ice cube LED lights head the design that is followed up by red door trim and finished with the one piece glass boot lid. The rear doorhandles are hidden away next to the windows keeping the design clean. It is a very chic looking car and one befitting of a modern-day Renault.
Inside the French company have clearly employed Time Lords to design the interior. It really is, dare I say it, "bigger on the inside." Plenty of natural light is let in through the windows filling a cabin that is just as modern as the exterior. Further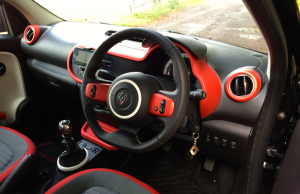 red trim contrasts against curvaceous facias adding a good dose of character to this interior. Neat buttons and vents surround what would typically be an infotainment system, here the Twingo breaks convention yet again. Instead of a touch screen taking centerstage, your smartphone sits in a cradle paired to the R-Link app. This is a pretty ingenious way of doing things as your phone is often many times more capable than the technology traditional placed in the console. You have access to satellite navigation, media and of course your phone. The overall aesthetic depends upon your particular phone but this approach, I feel, will become more common over the years. Chunky seats hold you in place well but the size of the front seats does restrict forward visibility from the rear. Its rear bench seats two average sized adults with reasonable head and leg room, however those over 6ft might begin to find the rear a bit of a squeeze. The bench splits in half but also sits more upright for increased boot space. With the engine in the back, boot space is limited but not by as much as you would think at 188 litres. Overall the cabin is a nice place to be offering space as well as keen visual design. My only real gripe with interior is that there is nowhere to put your left foot when you are not using the clutch. A small issue, but a slightly irritating one.
Starting this 2014 Renault Twingo Dynamique ENERGY TCe 90 unveils yet another plus of putting the engine in the back. Engine noise is reduced greatly and only under load can you hear its three cylinder thrum. With 135Nm of torque this car is ideal for doing battle in the city. Spot a little gap in the traffic and the car will leap for it. In motion there is not much in the way of lag from the turbo and so overtaking manoeuvres are not strenuous. Its 5 speed manual gearbox is rather slick and easy to work in the congested cities most of us live in. The ride is a bit firm at times as it bounces over road imperfections, but this
setup does also provide reduced body roll. This Twingo can hold its own on the motorway despite being something of a featherweight. It will happy push on if that is what you require, however, wind noise from the wing mirrors and A-pillar builds consistently from 60MPH. At speed road noise also may result in you turning the radio up. As for handling, the new car is well behaved and very willing to change direction. The variable steering, which adjusts the steering ratio dependant on speed, is great around town adding to the cars agility and nimble feel. Parking the Twingo is a piece of cake. Short overhangs, good visibility and its aforementioned ability to turn its wheels at 45 degrees means that even the tightest space presents itself as no challenge at all.
The 2014 Renault Twingo Dynamique ENERGY TCe 90 is a true urban warrior and well equipped to take on modern cities. It is different enough from competitors to put its own stamp on the class and is good value for something so stylised. Our well specified test car came to £12,875 including its options with the only addition we would recommend being the retractable fabric roof. The TCe 90 is the model to go for as we found the less powerful SCe 70 to be a bit lacklustre. All-in-all, the new Renault Twingo ticks the boxes, but we shall have to wait for a performance model before seeing how sideways this city car may be willing to go.