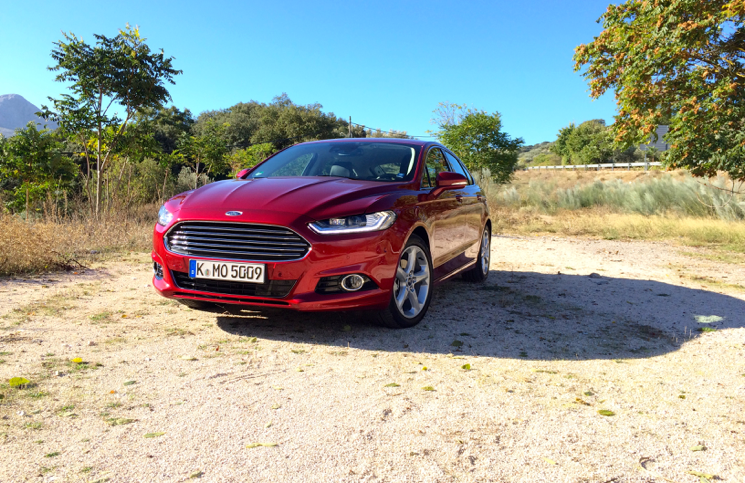 The life of a family car is an enduring one. From the moment it leaves the forecourt it must become a member of the household that earns its crust. From shopping trips to school runs, the car is often a key component of day-to-day life and so
must be utterly dependable. It has to do battle around town, repeatedly clock motorway miles and withstand the ultimate torture test… Children. For 21 years the Ford Mondeo has been that car 1.4 million times in the UK collecting 80 awards along the way. Modeo has become an institution forming its own loyal fan base along with phrases such as 'Mondeo man.' Change can be a big risk, but also a necessary one in order to keep with the times. The Mondeo has found itself squeezed by the premium segment from above with them building cheaper cars, but also from below with budget brands expanding their range. This all-new 2015 Ford Mondeo 2.0 TDCi 180 Titanium X is to take the fight to the invading premium badges with all the might of the One Ford program.
Perceived value is a big part of what makes someone buy a new car and this 2015 Mondeo scores very highly indeed. A sculpted design featuring prominent muscular lines gives the car a robust stance. An ovular grill with slim angled headlights creates a visual usually associated with cars costing considerably more. In saloon form the all-new Mondeo is well proportioned and very handsome for a car in this segment.
The interior follows suit and in Titanium X trim it is gizmos galore. A large Sync 2 touchscreen is now the centrepiece of the Mondeo interior which takes a real step upwards in terms of design. The centre console extends downwards and between the drive and passenger creating a cockpit-like divide. Silver trim pieces define stylistic details around the cabin akin to what many affluent products do. The seating position feels very natural and the half leather seats themselves in this model, with their ergonomic multi-contours and heat function, are perfect partners. In the back the rear bench offers loads of head and leg room meaning that long motorway journeys needn't be cramped. The rear seats also have a £175 option of being fitted with airbag equipped seatbelts that mitigate rib injury in an accident. This 2015 Mondeo's boot is vast even in saloon form. 550 litres of luggage space is up for grabs if you choose to have a tyre repair kit, or a still very reasonable 458 litre if you wish to retain the full size spare wheel.
Beneath the sun on a warm Spanish day we got behind the wheel of our 2015 Ford Mondeo 2.0 TDCi 180 Titanium X. This being the top specification car it was equipped with keyless go and so with a push of the start button, the diesel engine awoke. However, the usual unappealing noise of such an engine was mute and hardly penetrated the cabin. This refinement is what came to
define our experience of this model. The fourth generation Mondeo is loaded with technology including pedestrian detection, lane keep assist and something called MyKey. MyKey allows the owner to program a second key for the car limiting various function such as top speed and even how high the stereo can be turned up. The idea is that parents can feel more relaxed about lending the car to their freshly passed young adults. This diesel option is expected to be the most popular and potential owners have a lot to look forward to. It is a calming drive at all speeds with very limited road and engine noise being audible. The steering might have lost some of its feel from the previous car, now that it is electromechanical, but it is very accurate and weighted well. A six speed manual gearbox has some good ratios enabling you to make use of this cars 295lb ft of torque. Under acceleration the engine pulls strongly and builds momentum at a pleasing rate. Around town the it is very manageable and this specific car was able to make use to of its adaptive suspension further soaking up road imperfections in comfort. Select sport mode and on more exciting roads the Mondeo is even keener to turn into sharp bends capitalising on reduced body roll. High levels of grip further boost its rounded appeal. On the motorway this car is in its element being capable of devouring mile after mile without hesitation or any notable criticism. Considering that is where most of these models will spend their time, its abilities in this area can not be understated.
The One Ford program has enabled the company to put all of its most valuable resources globally together in order to create the best performing Mondeo to date. Our test car came to £30,845 with all of its toys, however, this engine can be had for £24,245. A claimed 64.2MPG combined and 115g/km of CO2 is also not to be sniffed at. Not only does Ford's traditional rivals have something to worry about, new combatants should consider this territory very well defended. The Ford Mondeo is still king of the hill.