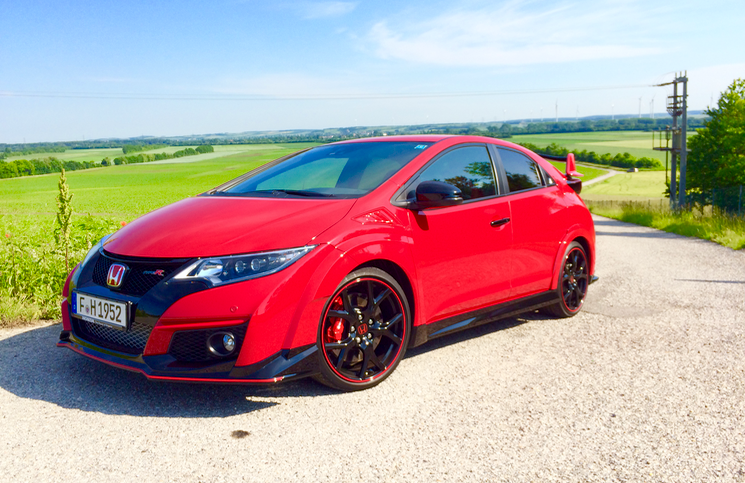 Some cars are loved and some even adored by many, however, very few achieve a cult status with hardcore fans willing to wear branded jackets on a day-to-day basis. The Honda Civic Type-R is a
machine that has accumulated a reputation for being a riot on the road and enjoyable to take on track events. Being a hot hatchback it is practical, fast, and doesn't cost the Earth to run meaning that the everyman can own a car capable of shaming the boss' sports car. It has been a long time coming, but the 2015 Honda Civic Type-R has arrived.
Honda are a company that relishes an engineering challenge, hence their reentry to Formula One as an engine supplier, and so a plan was laid out to make this new Type-R the fastest front wheel drive car around the Nurburgring. This is a hotly contested title and has resulted in this car being "over engineered" according to Honda. A prototype model achieved the target posting a 7 minute 50 second lap record. We went to Slovakia in order to sample this new hot hatch hero.
Subtle is not a word that appears in the 2015 Honda Civic Type-R's dictionary. Grills that could swallow small dogs, ASBO inducing body panels, and a wing that might be mistaken for runway from the air. Whilst this Type-R is as boisterously styled as you would expect such a car to be, everything you see in terms of design is part of an advanced aerodynamic package developed closely alongside the WTCC car. The intensive cooling solution is why this Civic plays hosts vents in the front wings and exits running down its arches. The latter actually reduces drag by channeling air through the car. In fact, the top speed is higher with this aero package than without!
Enter the cabin and you will immediately be consumed by man eating alcantara seats. These menacingly bolstered sports seats will happily swallow you whole and provide huge levels of support. Clearly being the fastest front wheel drive car around the 'ring makes this Type-R no slouch, as a result seats that pin you in place are most welcome. Red leather and stitching on the steering wheel further differentiates this from the standard model. A 'ballbearing" gear knob falls to hand with ease and connects to a pleasing manual transmission. It is clear that Honda know that their customers want to be the organic part of the machine and not just click at paddles. Clear instrumentation and Honda's new Android touchscreen infotainment system increases ergonomics. Whilst this is a 167MPH performance machine, it still retains the greatest thing about hot hatchbacks. A spacious cabin and plentiful boot means that you can indeed have your cake and eat it. Whilst rear visibility in the normal civic is impaired by a deck-lid spoiler, it is still the case in the Type-R, this cars massive rear wing can't actually be seen through the window as it bows. The rest of the cabin is fairly standard with good build quality throughout. This car in GT trim features automatic lights, automatic wipers, eight speakers, dual zone climate control and the driver safety pack.
Unlike the up and coming Ford Focus RS, the 2015 Honda Civic Type-R puts its 306BHP down to the ground via its front wheels alone. Usually that would be an alarming amount of power to send to
the front, but thanks to clever dual-axis suspension torque steer has been reduced by 55%, more on that in a moment. From the second you hit the starter button and those quad exhaust pipes announce that the new 2.0 litre turbocharged VTEC engine is ready to play, you can't help but smile. Whilst engine noise in the cabin at low speeds is not as antisocial as you would expect, Honda have chosen not to pipe artificial sound into the cabin unlike some competitors, there is pleasure to be had in hearing the turbo sneeze like Darth Vader suffering from hay fever. At about 3,500rpm the engine takes on a more baritone note and this is where the fun begins. Get past the initial touch of turbo lag and this car will simply catapult you off and into the distance. It is seriously fast with a 0-62MPH time of 5.7 seconds being faster than any other car in this class. You are sucked back into your seat as everything outside of the windows appears to fast forward. This new engine is strong and as you quickly row through the gears using the shift indicator and a magnificent short-throw gearbox, you soon find yourself traveling at a high rate of knots. To get the best out of the car you need to work said gearbox to keep the turbo on song and the revs high. Dive into a corner and there is barely a hint of body roll. The car will brake its inside wheels to turn in tighter and this in cooperation with high levels of grip and accurate steering makes for an agile final product. The bespoke continental tyres do a fine job. Torque steer? Nothing to write home about as Honda have cracked taming 400Nm through the front wheels. Large 350mm drilled and ventilated Brembo brakes provide good feel and excellent stopping power. The ride is firm, as you would expect, and so it will be interesting to see how it copes on broken British roads. That said, the ride is more compliant than previous Civic Type-R incarnations.
Hit the +R button and things get very serious indeed. Torque mapping changes, weightier steering, increased throttle response and 30% stiffer dampers. In this mode the car is an absolute track weapon. An already impressive chassis is turned up to 11 as the increase in responsiveness leaves you in little doubt about the 2015 Honda Civic Type-R and its record time. We hit the Slovakia Ring and on this challenging WTCC track the car measured us that future owners will value the intense engineering that has gone into making this the best front wheel drive performance car we have ever come across. Yet, enter the motorway on your commute home and the surprisingly grownup Type-R isn't too noisy, nor uncomfortable. It even claims 38.7MPG combined which is believable considering we achieved 27MPG after day of driving the car hard.
Starting at £29,995 and available on PCP for just £300 a month, the 2015 Honda Civic Type-R is highly accessible.
After talking to Project Leader Hisayuki Yagi about why Honda decided to stick with front wheel drive as opposed to all wheel drive, I came to the conclusion that it was for the same reason JFK said America went to the moon. "Not because it is easy, but because it is hard."