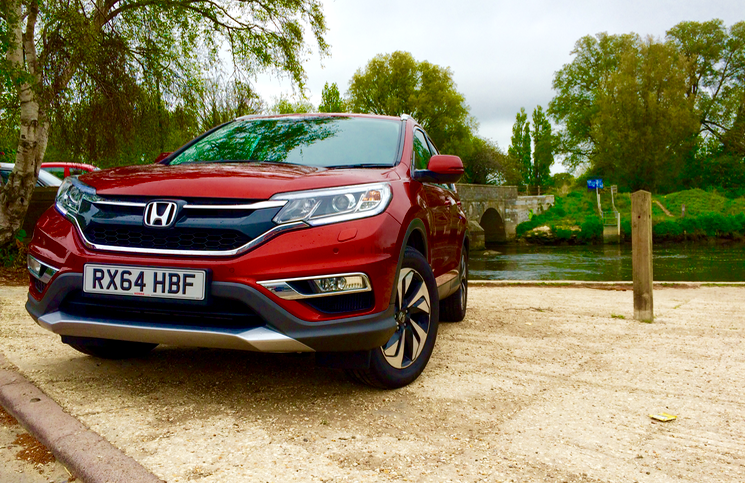 It seems that every time we write about the Honda CR-V quotes of just how many awards it has won or its vast sales figures appear at some point. That isn't about to change as 2014 saw even more success for this nameplate with it being crowned the best selling SUV of that year. It also achieved best selling petrol model in its class for the thirteenth year running! It is very clear that the Honda CR-V has a large and loyal fanbase, however, the time has come for an extensively revised "facelift" model in order to maintain its stature. This 2015 Honda CR-V 1.6 i-DTEC SR 4WD has several new tricks up its sleeve.
Our test car makes an entrance with its Passion Red Pearl paintwork and complimentary 18 inch alloy wheels. A new cascading grill and headlights that protrude from underneath the bonnet line creates a widened stance for the 2015 CR-V. This new face brings more dynamism to the front end of this SUV. Its silhouette is familiar but a few detail changes both front and rear means that it doesn't look aged when sat next to the mounting competition in this segment. A few chrome touches adde to this Honda's overall opulence.
This specific 2015 Honda CR-V is in SR trim and so features half leather and alcantara seats. They are heated and supportive in all of the right places. A new addition to the cabin for this model year is a 7 inch touchscreen infotainment system that replaces the old unit. It is Android based and so the likes of your home screen is completely customisable. Adding audio and web browsing widgets means that you can tailor the cars system to be at your convenience. Personally I am not Androids biggest fan, that said, allowing such a user interface that is familiar to many into an automotive environment is a big step forward. This screen sits above the dual zone climate control and gear selector. The dashboard on the passenger side is now more intricate in design and, just like the front of the car, cascades as opposed to being a relatively flat surface. Instrumentation is easy to read and with fewer buttons being placed on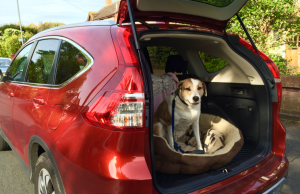 the centre console, the cabin is more ergonomic than the outgoing model.  The second row is treated to a flat floor meaning that the middle passenger isn't compromised in terms of leg room. Leg and head space for all occupants is plentiful. In the boot you will find a highly usable 589 litres of space, Zac the dog found it to be roomy, and with the pull of a leaver the rear seats fold flat giving you 1,669 litres at your disposal.
Under the bonnet of this 2015 Honda CR-V 1.6 i-DTEC SR 4WD is a new 1.6 litre diesel engine. Not to be confused with that found in the front wheel drive models, this engine produces 158BHP and has sequential turbochargers. What this means is that when you accelerate the first turbo gives you the get-up-and-go, but when that starts to run out of puff, the second one kicks in. The net result is a diesel engine that pulls all the way to its redline. This linear power delivery makes for a nice change from typically short shifting in diesels to maintain momentum. That said, shifting isn't a worry for us as we are in a car equipped with the all-new nine-speed automatic transmission. What's it like? Very good actually. Gear changes are silky smooth and hardly noticeable thanks to the intelligent engineering of
Honda. Leave it in auto and the CR-V is happy to efficiently cog swap all day long. This peaceful automation adds to the refinement of its driving experience. There are paddles on the wheel and an "S" mode if you wish to change gear yourself, but to be honest this doesn't suit the cars relaxing demeanour. The steering is light and easy whilst at the same time more precise and faster reacting than the previous incarnation. Its track has been widened and so there is an increased level of grip and sure-footedness. Body control is well tempered for a tall vehicle such as this, yet I do feel that this car rides a little bit firmer than the one it replaces. The large alloy wheels probably don't help. Visibility is it good and is further supported by our cars reversing camera. Under hard acceleration out of junctions its 350Nm of torque is put to pleasing use, but until you settle down the diesel engine can sound a bit gruff. On a motorway the 2015 Honda CR-V 1.6 i-DTEC SR 4WD is a great car for clocking up the miles as its high levels of comfort and extra refinement creates a relaxed environment. Officially this CR-V claims 53.3 MPG combined and we came not too far off of that. Honda tend to be one of the more honest manufacturers when it comes to MPG figures.
Whilst some of the 2015 Honda CR-V 1.6 i-DTEC SR 4WD competitors do offer a more involving drive, many can not claim the same refinement and peace of mind when it comes to reliability. Our test car came to £32,825 with all of its extras, which isn't an insignificant amount of money. On the other hand, mid-specification cars are well equipped and in some case sport more toys than the competition. This new 1.6 litre diesel is a fantastic engine and the automatic gearbox is worthy of just as many compliments.
The very good reason why the CR-V has won so many awards is because it is, in and of itself, "very good."