The early 2000's were not the happiest times for Jaguar. Financial uncertainty often plundered attempts to turn exciting concept cars into a reality. The British icon needed rejuvenating for the
modern-day and an all-new model would come to represent the leaping cat moving forward. This was the XF and in 2007 its attractive lines, penned by Ian Callum, clearly stated that this was a car for todays world. Whilst heritage is important, the XF ditched the walnut dashboard for a wealth of technology. Make no mistake, this is the model that saved Jaguar. Now in 2015 it is time for said car to again set its sights on the Germans. This all-new Jaguar XF isn't here to play second fiddle to BMW… It wants the crown from on top of its head.
Looking just as handsome as its little brother, the XE, our XF in R Sport trim exuded sporting tones, style, and sophistication. Red jaguar badges contrasts "black pack" detailing, which in turn clashed with the white bodywork. A long domed bonnet is stretched taught toward the deeply recessed grill. Its sloping roofline adds dynamism to the athletic stance of which the XF possesses. Short rear overhangs neatly brings the silhouette to a close. This Jaguar is distinctive and makes its key rivals look rather characterless in comparison.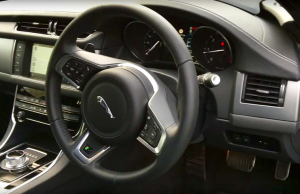 The interior is fantastically premium with good quality materials forming and arch that encompasses the driver and front passenger. Sitting low in the chassis and in some very supportive leather heated seats exemplifies the XF's fusion of both executive luxury with a clear focus on the driving experience. A three spoked steering wheel featuring an R logo is adjustable meaning that all shapes and sizes will find a natural driving position. Jaguar's 8 inch touchscreen infotainment system is easy to navigate and aesthetically pleasing. Access to navigation DAB radio, Bluetooth, and other media is all gained via this portal. Moving into the rear and the increase in space over the smaller XE is immediately noticeable. More head and leg room means that adults will be seated comfortably unless they are of the exceedingly tall variety. However, the centre seat is restricted by a protruding transmission tunnel, not unusual for this class, but something to consider. Boot space is a respectable 540 litres and with those rear seats folding flat, the new Jaguar XF scores well in terms of practicality.
Push the starter button that is illuminated with an organic red pulse and the four cylinder Ingenium diesel engine will fire. A gear selector rises from the
centre console and air vents rotate to reveal themselves. Some might say that such theatricality is unnecessary, personally I think its adds a unique sense of occasion every time you start the car. This specific XF is the 2.0 litre 178BHP model allowing for a 0-62MPH time of 8.1 seconds and top speed reaching 142MPH. More potent engine options are available, but this unit is expected to be the biggest seller. Putting the engine under load causes a slightly gruff engine note to emerge and that is a shame because generally speaking the XF is a refined machine. Once up to speed the whole cabin becomes hushed as road and wind noise are well suppressed. The car is a good motorway mile muncher allowing the driver to relax a little bit. Set the cruise control and enjoy those comfortable seats as this Jag whisks you onward to your destination. Overtaking stragglers is no problem at all with the 8 speed automatic gearbox happy to pluck appropriate ratios. Rear visibility isn't great and so I would advise optioning a rear camera. However, this cat has claws and is capable of more than just long hauls. Show it some good-old-fashioned British B-roads and watch it leap into action. This all-new 2015 Jaguar XF uses plenty of aluminium in its design meaning that this car is 190KG lighter than its predecessor. This is immediately evident from the first corner you tackle. Steering inputs are direct with the saloon being quick to respond to commands. Lateral body control is excellent for a car of this nature with total composure being present at all times. Select the dynamic mode and needed weighting is added to the steering whilst throttle response is increased. Manually clicking through the gears results in pleasingly fast changes. Red glowing dials, a firm grip of the wheel, and that "seat of your pants" feeling you get when piloting a well engineered chassis makes for a great combination. When driven in anger the XF is nothing short of impressive. It is so nimble that it seemingly shrinks around you becoming a smaller car. An impressive trait indeed. Whilst its ride a lower speeds is firmer as a result of its taught handling, it is a fair trade considering how enjoyable the experience is.
You can have a 2015 Jaguar XF R Sport with this engine from £36,850 although do be aware that just like the Germans the options list can increase that total dramatically. Generally speaking pricing is competitive. Returning a claimed 65.7MPG combined and offering the best driving experience in its class, the new XF is a worthy successor.