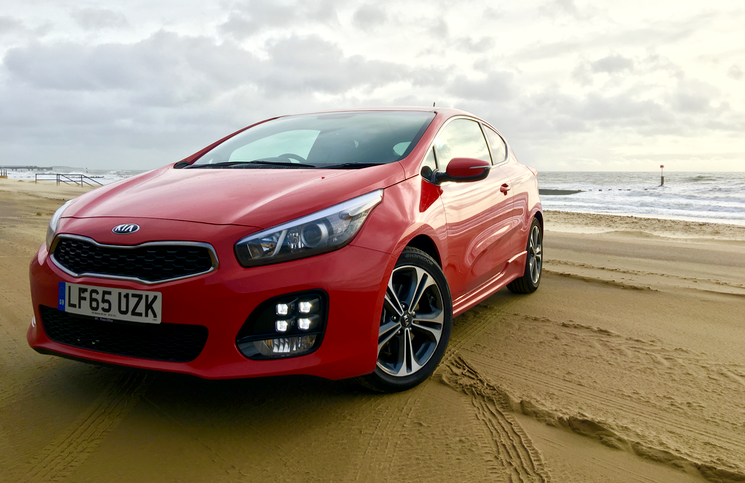 Downsizing engines and adding a turbo or two is a trend that will likely be staying with us due to emission requirements. Whilst it does put legendary creatures such as the V12 on the endangered species list, we do also get some interesting interpretations at the
other end of the spectrum. Three cylinder 1.0 litre turbo units are becoming more commonplace, but their characteristics make them difficult to execute well. Ford's EcoBoost engine has won many awards, however, Kia are next to take up the challenge. We test this 2015 Kia Pro_Cee'd 1.0 GT Line to find out if the industry leaders in terms of warranty (7 years) can produce the goods.
Forgetting about the engine for just a moment, it must be said that this is a good looking machine. In three door Pro_Cee'd guise this hatchback instantly makes more of a statement than others in the car park. Adding to its aesthetic is that this specific Kia is in GT Line trim and so you get all of the styling details as found on the sportier Pro_Cee'd GT. "Ice cube" daytime running lights, More aggressive bumpers, and those attractive 17 inch alloy wheels all come as part of the package. Factor in the potential benefits of a tiny engine that sits behind that tiger nose grill and this Pro_Cee'd becomes an alluring prospect.
Kia's latest interiors can compete with the best in their respective segments and our 2015 Kia Pro_Cee'd GT Line again proves this. A digitised instrument cluster is configurable to your requirements and presents itself as being easy to read. The centre console features dual zone climate control and Kia's rather excellent 7 inch touchscreen infotainment system. Not only does it provide access to navigation and media, but the whole experience is very slick and visually appealing. Whilst you don't get the Recaro seats from the GT, GT Line does offer some comfortable fabric seats. Rear visibility is limited due to a shallow window and so the reversing camera on our test car proved very useful. The second row reveals a pleasing amount of space for occupants and behind them is a good 380 litre boot.
GT Line cars come with a starter button and once pressed the little 1.0 litre engine comes
to life. For those unfamiliar with the latest batch of turbo three cylinders, there may be a fair amount of scepticism as to its performance. Whilst 0-62MPH in 10.7 seconds (faster than the 1.4 litre offers) isn't going to worry Sebastian Vettel, a healthy 118BHP and 171Nm of torque from just 1,500rpm means that progress feels perfectly adequate. You never feel that the car is lacking and with nice linear power deliver you totally forget you are in a 1.0 litre car. Engine noise is suppressed impressively and that classic three pot thrum is only really audible much higher in the rev range. This cars six speed manual transmission provided positive shifts and offers a well selected choice of ratios. The Kia Pro_Cee'd rides nicely providing a good balance between dealing with road imperfections whilst remaining composed. On more lively stretches of tarmac this cars high levels of grip provide security whilst torque vectoring adds agility. Its steering is something that needs working on as its three modes of weighting are all too light and the lack of feel through the wheel detaches the driver from the experience. This chassis has a lot of potential, something that is further explored in the GT, but in this guise it isn't as engaging to drive as competitors. What might surprise some is just how well this variant performers on the motorway. I spent hundreds of miles on long hauls with this car over my time with it and I must say I was very impressed. It handled long-distances with ease and never felt underpowered on faster roads. Quiet and comfortable, on those journeys it really proved to be more than just an urban mode of transport. Claiming 57.6MPG combined and emitting 115g/km of CO2, the 2015 Kia Pro_Cee'd 1.0 GT Line is also cheap to run.
At £19,720 and coming with plenty of equipment, this Kia Pro_Cee'd 1.0 litre is competitive, not just on value, but also in engineering terms. This is arguably one of the best excited small petrol engines on sale today.