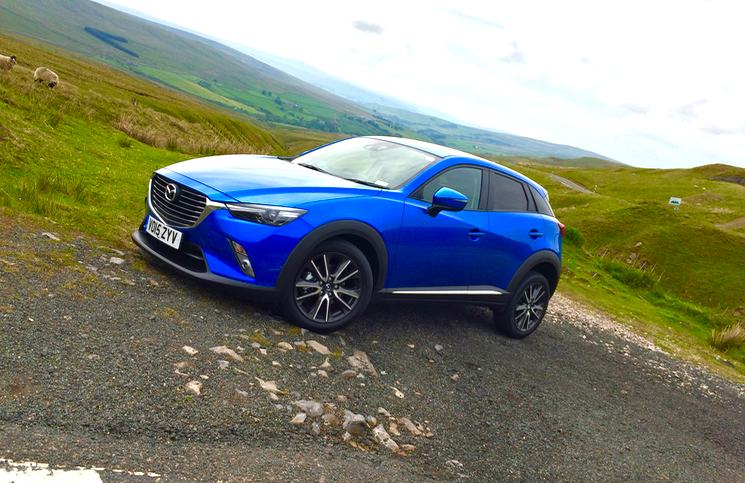 When the Nissan Juke came along we all thought that it was to be a niche product. A compact SUV, who
wants one of those? It turns out that the Juke founded one of the fastest growing segments the automotive world has ever seen. Ford, Renault, Mercedes-Benz, Vauxhall, Mini and many more have now created their own take on these highly desirable high-riding hatchbacks. Mazda has a rapidly growing portfolio and it wasn't long before they saw the potential of a new car that would sit below their CX-5 SUV. Introducing the 2015 Mazda CX-3.
Derived from the same platform as the all-new Mazda 2, this stylish little number looks fantastic. Continuing the development of Mazda's Kodo design language, the CX-3 features strong body lines that swoop along its length giving it a very dynamic appearance. Sculpted panels, detailed lights and an elongated bonnet aid in creating a somewhat raked appearance. Our test car was the top specification Sport Nav model and so featured a chromed grill and 18 inch Gunmetal alloy wheels. The 2015 Mazda CX-3 has not strayed very far from its initial design sketches and as a result it is by far the best looking car in the compact SUV segment.
The interior provides further evidence of Mazda's push to become a more premium brand. Leather upholstered the seats and trims the dashboard as well as the centre console. Contrasting stitching adds a sporting element to the cabin in addition to a feeling of good fit and finish. Adding to that sporty feel is an instrument cluster which places the rev counter in the middle like a sports car. The drivers seating position is spot on and visibility is not too bad all around, large wing mirrors and a reversing camera help. You will find Mazda's touchscreen infotainment system is standard across the range and offers a great ergonomic interface. DAB radio is also standard. A Bose audio system provides the backing for those motorway singalongs. Well bolstered seats offer good support for front occupants. The rear bench seats three and the two outer most seats are fine for adults. Good head room, despite the sloping roofline, and an acceptable amount of leg room makes it just as practical as the competition. However, the tapered rear glass does cut down on the amount of natural light that can enter the cabin. Its boot space is limited, but that is not unusual in this class. That said, the CX-3 does feature an underfloor storage compartment.
This 2015 Mazda CX-3 2WD 2.0 120ps Sport Nav is powered by a 2.0 litre Skyactiv petrol engine that
produces 118BHP. Its power is then sent through the front wheels with all wheel drive being optional on both petrol and diesel cars. This unit is rather refined at low revs, but the power is to be found higher up in the range. Being naturally aspirated inputs with the throttle are met with quick responses and as long as you are within the power band the CX-3 has a reasonable turn of pace. Cruising along, the cabin is well insulated from wind noise which only begins to make itself known at higher speeds. With the larger alloy wheels of this car some road noise made itself known, but this can be reduced with the smaller alloy wheels. All Mazda cars pride themselves on strong driving dynamics and this CX-3 is no different. Whilst driving enthusiastically the car demonstrates its agility as accurate steering and a strong sense of lateral control, even in a tall vehicle such as this, means that it feels composed. Light steering teamed with a compact size makes for an easy drive within towns and cities. A six speed manual transmission has something of the MX-5 in its pleasingly short throw. Slick changes before a well executed bend will leave those who enjoy driving satisfied. Strong braking performance garnishes this 2015 Mazda CX-3's attributes. Its ride is more firm than that of its rivals, this is the price of a more sports orientated chassis, and with those aforementioned alloy wheels potholes and road imperfections are felt throughout the cabin at low speeds. The ride is slightly better in the diesel over high frequency bumps. This 2.0 litre petrol engine returns an official 47.9MPG thanks to it Skyactive technologies. Also opting for 2WD means that the car does not have to carry the extra weight of an all wheel drive system.
We like the 2015 Mazda CX-3 2WD 2.0 120ps Sport Nav a lot and it could just be the best car in its highly competitive class. Its only real drawback is that it is more costly than its rivals starting at just over £17,600. That base model comes with plenty of standard equipment, but it is a high entry level price. Our test car came to £21,035 well endowed with options.
Sharp looks, keen handling characteristics and good build quality… Mazda will sell a lot of these!