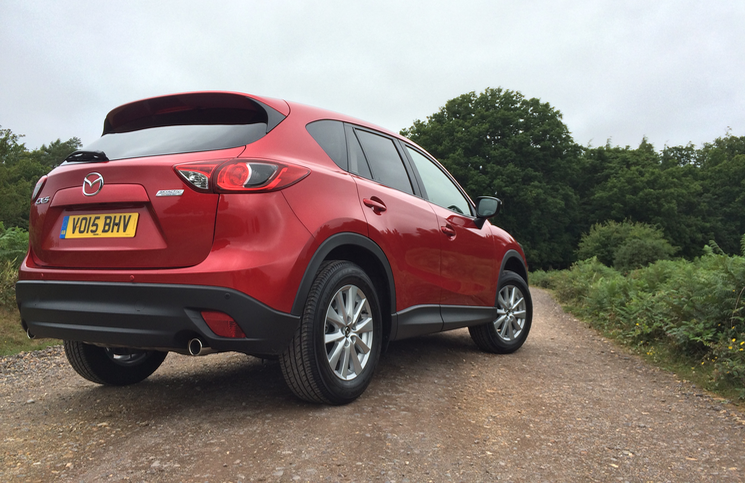 The Mazda line-up really is something to take note of if you are looking to buy a new car. This new generation of models are seriously giving competitors a hard time, especially with the excellent
little CX-3. From the Mazda 2 right up to the CX-5, the Mazda product portfolio has never been stronger! The aforementioned CX-5 is what we have been testing of late as the model is refreshed for 2015 bringing with it a host of updates. Can the 2015 Mazda CX-5 build upon a car that we have liked since its inception?
Mazda's Kodo design language now resides on everything in the showroom, but the first production model to wear it was the CX-5. Looking as modern as ever with dynamic body lines that give the impression of movement along its length, the car does stand out. The Soul Red metallic paint on our test car amplified the character details and furthered the CX-5's premium image. For 2015 a new horizontal bar grill has been introduced. If you go for the top specification Sport Nav model, of which this car is not, you also receive LED head and fog lights. This SUV is still one of the most handsome in its class.
There have been some big revisions to the interior for this "facelift" model. Taking centre stage is Mazda's new infotainment system that has now been rolled out across the model range. The large display is controlled via a very ergonomic control wheel and shortcut keys. Access to DAB radio, satellite navigation, and even social networking applications is easy. Leather now trims the console leading down to this cars gearstick. Overall the whole interior feels like it has taken a step up in regards to quality of materials. Its strong build remains. Bolstered sporty leather seats prove to be supportive and warm thanks to their heater function on cold days. This car also had a sunroof, a rarity in todays cars. Rear passengers have good levels of space and potential owners will find the 503 litre boot to be accommodating for family life.
Our test car is the 2.2 litre diesel with front wheel drive, all wheel drive is available, and it is brilliant. The diesel unit itself is responsive, strongly deploying
148BHP along with a loving spoonful of torque. Its performance on the motorway especially is exactly what you need for confident overtaking manoeuvres. Set the cruise control and it will happily maintain a steady pace with no questions asked. Just like the updated Mazda 6, the CX-5 has been made a tad quieter thanks to increased sound insulation. It might not be the quietest cabin on the market, but there is an improvement over the previous car. Ok, so for a diesel SUV to be good at munching miles on long straight road is nothing to write home about, but this 2015 Mazda CX-5 does more than that. On a winding piece of tarmac this CX-5 is actually good fun to drive. Now how many other SUVs can you say that about? Its lateral motion is kept in check and accurate steering makes the driver feel connected to their inputs. A slick gear change motion, that is more akin to a sports car, feels direct. Positive amounts of grip means that you can take advantage of the Mazda and its playful nature. This cars ride is a bit firmer than competitors at lower speeds, but not going for large alloy wheels does help. Heading back into a more urban setting, the CX-5 is easy to drive, but rear visibility could be better. We would advise upon getting an example with a rear view camera to overcome this. On the combined cycle Mazda says that this car will return 61.4 MPG and emit only 119 g/km CO2 making it cheap to run and tax.
The Mazda CX-5 remains a credit to the Japanese manufacturers portfolio combining practicality, desirable SUV traits, great handling and an attractive visage. These changes for 2015 offer more of the same and only serve to strengthen this car as a whole. Priced from £22,995 the CX-5 is more costly than some of its rivals, however, kit levels are generous.
We would certainly recommend that the 2015 Mazda CX-5 makes your shortlist.