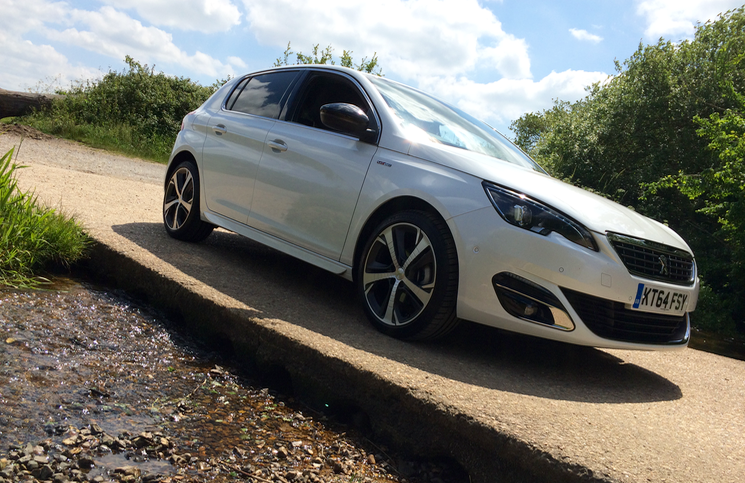 Many people aspire to own a purposeful machine that they can place in their driveway and be proud of. In the UK these days a hot hatchback can do an excessively purposeful job of dispatching of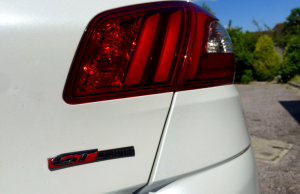 sports cars, but what happens when you are running the family household on a budget? All of a sudden dedicating the extra money on fuel isn't so appealing. The answer in the case of Peugeot is the 308 GT Line. Think BMW M Sport and you are pretty much there. Retaining the more sporting looks of the 308 GT, this GT Line actually has a 1.2 litre turbocharged engine that aims to keep prices at the pumps down.
The Peugeot 308 is a good looking car in standard guise being well proportioned. It isn't overly flashy in terms of design, but its premium detailing and subtle styling lines form a handsome hatchback. In GT Line specification you will find dual exhausts at the rear, a darkened rear diffuser, contrasting mirrors and a set of concept car inspired alloy wheels. In Pearl White with rear privacy glass, this 2015 Peugeot 308 GT Line is really smart blending grownup aesthetics with a pinch of sporting attitude.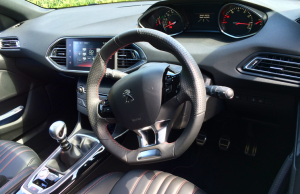 GT Line upgrades are immediately noticeable within the cabin. The driver is placed in a nicely bolstered black leather seat which is detailed with red contrasting stitching. It is supportive and gives the car a further sporting perception. These seats are also heated as well as massaging for those stressful days. This interior in general is clutter free and its sculpted cascading surfaces do make it feel upmarket. Aluminium details vents and surrounds the gearstick whilst Peugeot's touchscreen unit gives you access to just about every function in the car. DAB radio, BlueTooth, air conditioning and even a web browser can all be utilised from the central panel. A small steering wheel sits below a stylised instrument cluster that has had just as much time spend on its design as the rest of the dashboard. Moving rearward occupants have reasonable head room, but are a bit restricted when it comes to leg room for adults. The boot is a really usable shape and with the rear seats flat makes for easy loading. Some competitors do offer a larger volume of space, but the 308 has more than enough for trips to the supermarket.
Now, this Peugeot 308 GT Line is not to be confused with the 202BHP 308 GT, GT Line acts as a trim level offering visual resemblance to its more powerful brother. As a result there is a choice of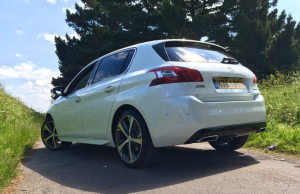 engines on offer including this 129BHP 1.2 litre petrol engine. This is a great little engine that revs freely and is well suited to both motorway and around town. Visibility is good with nicely sized door mirrors, though the reversing camera is recommended as the rear window isn't as large as some competitors. A six speed manual gearbox offers a good selection of ratios and works well with this four cylinder. There is loads of grip to be taken advantage of when the going gets twisty and this cars small steering wheel boosts a sense of agility. There isn't too much in the way of body roll either. Something else that the GT Line is equipped with is a sport button… Push this and the dials go red and horsepower usage is displayed signifying a change in the cars demeanour. The throttle becomes more sensitive to inputs and the steering gains a pleasing amount of weight for more precision when hitting apexes. In this mode the 308 is an enjoyable drive on country roads, however, it also activates a feature I greatly dislike. A synthesised exhaust noise is piped into the cabin which is far burlier than this car is capable of emitting on its own. It sounds terribly fake and this on top of my general disdain for such systems made me not really want to use sport mode. 90% of customers will not care where the noise comes from, but for me as an enthusiast I'd much rather the car be honest about its vocal abilities. Whilst we are talking negatives, I'm afraid the ride does suffer due to those low profile tyres and road noise is increased over the standard car. It is far from uncomfortable, but the standard model simply does a better job in this department.
The Peugeot 308 GT Line is not a bad car, far from it. However, it appeals to a specific customer. If you want every gadget and gizmo under the sun then the GT Line makes sense. Priced from £21,445 it is even competitive with other top specification rivals. This 1.2 litre petrol engine is another strong plus point for the car, but our advice would be to take a look at the Allure trim level. It is cheaper, still has plenty of kit and if you really must have the Sport button it can be optioned. The 308 is undoubtably a good car, but the GT Line is not the best 308.