We all know the story of Goldilocks… Too hot, too cold, and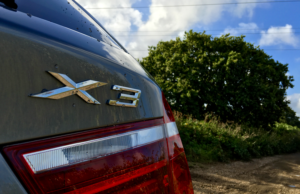 eventually just right. I'll be the first to admit that I wasn't the biggest fan of BMW's X range when it first arrived, however, with a bit of time and evolution we have a range of SUVs that are now moorish as opposed to mediocre. The X3 exemplifies that as this facelift 2016 BMW X3 20d is "just right" when it comes to premium cars of this nature.
Endowed with the M Sport pack and finished in this deep grey, the 2016 BMW X3 is a rather handsome machine. Proportionally it works with quite a stout stance, amplified by those alloys filling its wheel arches, and short overhangs. Signature BMW chrome trimmed kidney grills sit between a set of intricate headlights. A few muscular lines upon the bonnet and sporty bumpers gives this SUV a sense of authority. Overall it is a mature look with a hint of executive to it.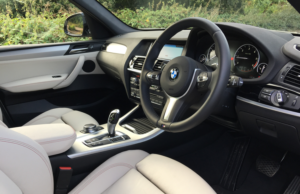 Inside our X3 you will find a cream leather interior with contrasting red stitching. It certainly is inviting and as you slide into the supportive embroidered seat you notice that the light colours serve to make the cabin feel more spacious. There is plenty of space on offer with rear passengers possessing good head and leg room. It is only the middle occupant that has to contend with that traditional transmission hump. Boot space is a good 550 litres with the seats up or 1,600 litres with them folded flat. Up front you will find the excellent BMW iDrive infotainment system and a three pronged steering wheel. Whilst the cabin quality is great, the centre console design is now starting to look a bit dated.
For those who do not speak BMW, this cars model name translates into it being powered by a 2.0 litre 188 BHP diesel engine with power being sent to the ground via all wheel drive. In-between those poles sits an 8 speed ZF automatic transmission of which is simply the best in the business. Seamless upshifts, undetectable downshifts, and quick responses when summoned via paddle shifters. The engine itself is smooth and its on-tap torque of 295lb ft combined with he traction of all wheel drive makes for an empowering drive. Performance is there for swift exits from junction and surging overtakes on the motorway. It is a very easy car to drive as the 2016 BMW X3 provides good all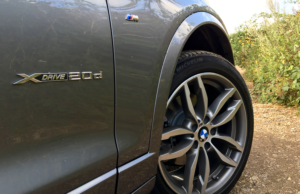 around visibility and intuitive weighting of the controls. When it comes to refinement the cabin is relatively well insulated and the suspension is tuned for a nice balance between control and comfort. Select sport mode and the steering becomes more responsive as does the throttle. Our test car also had the ability to firm up its suspension for increased body control. Take the X3 onto some entertaining roads and it is an enjoyable drive. For an SUV it keenly changes direction and the plentiful grip offered means that it is well equipped when these very same roads embrace winter. Functions such as hill descent control further suggests that this BMW can venture from the beaten track from time to time. BMW claim that the 2016 BMW X3 20d can do over 54 MPG combined and emit 136g/km CO2.
Be it around town or on longer journeys, the 2016 BMW X3 has proven itself to be a well rounded family SUV that still competes for class honours despite increased competition. Being a premium product means that the X3 carries a premium price tag. Starting from £33,945 it isn't the value option, but it certainly justifies itself with a wide range of abilities.