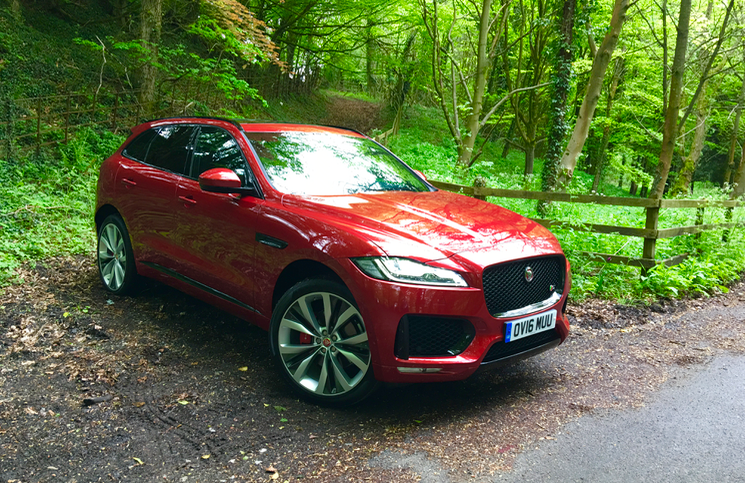 The topic of Jaguar building an SUV is one of controversy amongst purists. Should this prestigious brand explore segments that it isn't traditionally associated with? Truth be told, any manufacturer that isn't at least considering a move into the booming SUV space is very much missing out. For me the question isn't if Jaguar can build such a car, but if such a car can be a Jaguar. This is the 2016 Jaguar F Pace and we want to know if its beauty is more than skin deep.
Speaking with Jaguar's chief designer, Ian Callum, he said that
the F Pace "was the most challenging car" that his team had taken on. SUV proportions aren't typically elegant and don't tend to lend themselves to being sporty in any way, shape, or form. But here we are with a truly handsome profile being presented by this Jag. A long proud bonnet and blunt nose is recognisable amongst its siblings, key signatures of the brand have remained. The larger glasshouse has been sculpted into an elegant and flowing shape. Strong shoulders give the F Pace presence whilst the roofline gently tapers. A shapely boot lid finishes off the body with a flourish. The large 22 inch alloy wheels found on our test car looked fantastic and promoted a sporty look.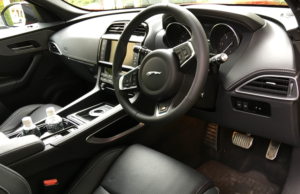 Whilst the interior of the 2016 Jaguar F Pace does offer the practical space of an SUV, it certainly feels like the cockpit cocoons you in a similar fashion to a sports car. A raised centre console divides driver and passenger whilst a familiar arch encompasses the front occupants. This specific F Pace was equipped with the 8 inch touch screen infotainment display, a larger widescreen option is available, which provided everything from navigation to DAB radio. Leather seats are also standard and offer excellent bolstering to hold you in place. Rear occupants are treated to plenty of head and leg room, although the middle occupant must straddle a protruding transmission tunnel. The glass panoramic roof on our car allowed natural light to cascade into the interior giving an airy feel. Boot space is a generous 650 litres and thanks to a 40:20:40 split to the rear bench it is a versatile space. Overall the interior, whilst sporting the odd rough material, does feel premium and certainly measures up to other Jaguars in the range.
Powering this 2016 Jaguar F Pace is a silky smooth 3.0 litre V6
diesel engine. We have sampled this unit before in the XJ, but it is the perfect fit for the F Pace. 296 BHP and a hefty 700Nm of torque is utilised by an 8 speed automatic transmission and deployed via all wheel drive. Unlike most SUVs with AWD, the F Pace has a rear bias meaning that the rear wheels are primarily used with the front set coming into play when traction loss is detected. The net result of this rather unique engineering is that the car handles fantastically. It is very eager to turn in to a corner and the high levels of competency in terms of body roll means that you can really lean on the plentiful levels of grip also. In the Jags "Dynamic mode" it genuinely is good fun to thread through some twisty roads. Despite being a tall vehicle, its demeanour is much more akin to something traditionally athletic. 50:50 weight distribution and weighing 130kg less than a Porsche Macan certainly helps. As always, this gearbox is very pleasing with responsive shifts when manually selected, but also capable of being left alone to select appropriate ratios. Settle down to a more sedate pace and the Jaguar F Pace in this guise is tranquil. Engine noise is almost absent at these speeds and the motion of the car feels totally relaxing. It's ride is firmer than some of its competition, however, that is the trade made for its keen handling. Also, while these 22 inch alloy wheels look the part, we would recommend the smaller option to help improve comfort on our battered British roads. On the motorway the combination of effortless overtaking potential and cruise control makes this a total mile muncher. Around town the control weightings are light promoting ease of use, but rear visibility is not the best. Jaguar claims that this model will do 47.2 MPG combined and emit 159g/km CO2.
Whilst it is clear that the 2016 Jaguar F Pace is at home on tarmac, its Land Rover relations also mean it is equipped for some light off roading action. Good ground clearance and a very respectable wading depth makes it more capable than most. There is also a hill assent feature that enables steady and controlled progress up steep gradients.
At £51,450 this 3.0 litre V6 model isn't cheap, but it is worth every penny. It isn't just a great SUV, it is a great Jaguar. The Jaguar F Pace is a remarkably accomplished machine with the aspirational qualities that will have people falling over each other in order to have one in their driveway. The waiting list is already growing at quite a rate.