One of my earliest childhood memories is of a Jaguar. My next-door neighbour at the time was an ex-Ferrari mechanic who had set up his own workshop behind his house. Being an inquisitive youngster and already showing signs of being a car-nut, I often pottered around looking at what machine he was working on. One day a beautiful blue Jaguar XJ sat in the dimly lit space. I immediately adored its elegance and sense of importance it exuded. To this day I can recall the smell of the oil and feel of the cream leather seats. Fast forward a few decades and I find myself in the most modern of Jaguar XJ. But not just any XJ… This is the 2016 Jaguar XJR.
Back when this XJ was all-new it caused quite a bit of controversy as it was such a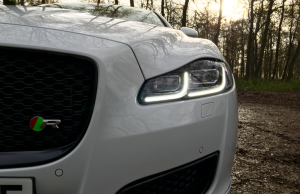 departure from its predecessor. Much like the Land Rover Defender, this British icon hadn't changed very much throughout its life, but here was this sharp new saloon that represented a modern Jaguar. Critics soon subsided after driving it and now its silhouette is familiar within XJ lineage. Visually for 2016 new "J-blade" headlights and a deeper recessed grill add to the package. This being the XJR means that it features more aggressive bodywork than the standard model. In addition, our test car finished in Polaris White also possessed a set of 20 inch gloss black alloy wheels. Whilst clearly an item of luxury, the 2016 Jaguar XJR has the aesthetic of a cat ready to pounce
Gone are the walnut facias of classic XJ and in their place modern materials and gloss finishes. Leather lines the dashboard and a finely crafted analogue clock sits like a jewel between two domed air vents. Jaguar's new InControl Touch Pro infotainment unit brings things up to date with a wider screen and improved operating system. Other in-car technology includes a navigation view on the TFT drivers display much likes Audi's Virtual Cockpit, Wi-Fi hotspot, and the ability for the navigation to hand over to your phone once you leave the car. The high centre console separates two sporting seats with good bolstering. This high quality interior stretches back into the rear quarters where there is seating for three. Because of the rakish profile of this Jaguar, head room is a bit less than competitors and leg room is not class leading. However, for those who need to stretch out in their "Jaaaag" there is the option of an extended wheelbase. Rear visibility is also restricted by the shallow angle of the window, but the vast array of cameras on this big cat should negate most of the inconvenience. The 2016 Jaguar XJR comes with plenty of standard equipment including; heated and cooled seats, four-zone climate control, panoramic glass roof, DAB radio, and also Digital TV.
Press that pulsating starter button and the car awakes from its sleep by clearing its throat
in front of bystanders. The beating heart of this jungle predator is a 5.0 litre V8 engine which is supercharged. Setting off you are bathed in all of the virtues the XJ has always possessed. It feels effortless at low speeds as unwanted noise is kept at bay and the control weights are nice and light. The new infotainment system is an improvement and the overall increase in technology that the car has makes life even more convenient. The ride is a little bit firmer than you might expect for such an opulent machine, but it is far from unbearable and does present other benefits of which I will get to. This car ticks the boxes when wafting in the city with its subtly sinister appearance foreshadowing "The Wolf of Wall Street" exiting the rear. But you don't want to know what this car is like at 20 MPH. You want to read about what happens after Jeeves has dropped off the boss and hits the noisy pedal. 542 BHP and 680 Nm of torque equates to a 0-62MPH time of just 4.6 seconds. The surge of acceleration, between each swift gear change from an 8 speed ZF automatic box, is feverishly addictive. In the blink of an eye the 2016 Jaguar XJR devours the stretch of road that once stood before it, gobbling up tarmac like it is going out of fashion. I would like its beastly engine note to be more audible from within the interior though. Turn things up via the cars selection of modes and you get an even more responsive throttle pedal, weightier steering, and faster manually selectable gear changes than you thought were possible. However, it is when you meet your first challenging bend that this XJ plays the ace from up its sleeve. Seemingly shrinking around you, the Jaguar becomes nimble and feels far more agile than a car of this size has any right to be. Body control is sublime and the steering, despite being one of those new electro-mechanical systems, offers the driver precision and feedback. You feel very connected to what is going on beneath you as the XJR, just like the rest of its siblings, proves to be the best handling in its class. How a car of this stature can be so good to drive is surely down to some form of sorcery.
Whilst it sounds silly to claim that a car costing £91,755 is good value to "normal people" that is the truth. This 2016 Jaguar XJR undercuts its German competition by a good margin. Powerful, engaging, characterful. This XJR is every inch the modern British icon it deserves to be.