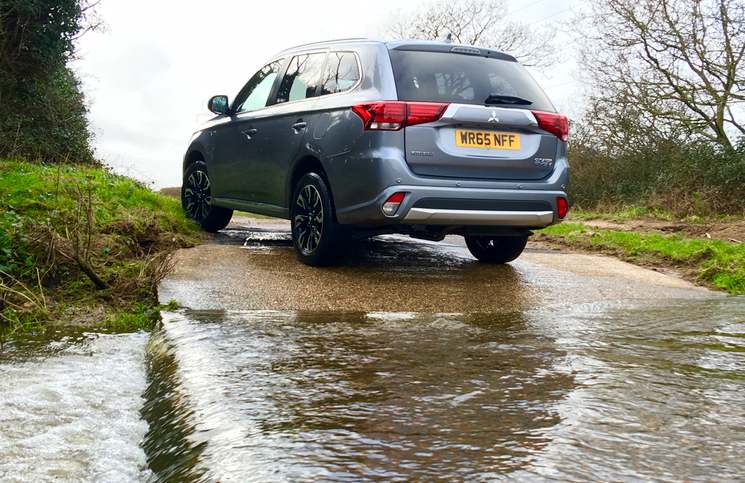 The benefits of electric cars are numerous. Aside from their positive environmental traits over combustion, things such as low running costs should tweak the interests of most people. So if electric cars are fantastic then why don't we all have one? Put simply, the number one reason for most people sticking with petrol power is range anxiety with their second reservation being initial cost. The 2016 Mitsubishi Outlander PHEV quashes those quibbles as it offers the best of both electric and conventional motoring.
For 2016 the Mitsubishi Outlander PHEV has undergone quite an extensive facelift. Whilst
the car it replaces was all about form following function, this design has a more premium flare. Glossy black nose elements and chrome detailing for the brands new "dynamic shield" family face. New headlights, skirting, and black alloy wheels further update this SUV. Our test car finished in grey looked great and seeing as part of the appeal for cars such as this is aesthetic, that is important.
Just like its diesel counterpart, the interior has been reworked to match a more modern exterior. Black trim now encompasses the front occupants and new materials add to a perception of higher quality. Thicker glass has been incorporated into this Outlander to further reduce unwanted wind noise. The piano black centre console houses a touchscreen infotainment display with DAB radio. This system can be a bit fiddly at times but once you get know the menus it is clearly a step up from Mitsubishi of old. Leather headed seats and a heated steering wheel comfort you in your newfound high driving position. In the second row you will find seating for three adults with good head and leg room. Even the middle seat can be utilised for full sized passengers thanks to a low transmission tunnel. The PHEV has a spacious 463 litre boot, but does not possess the two deployable seats of the diesel car.
The 2016 Mitsubishi Outlander PHEV is powered by a 2.0 litre petrol engine along with
two electric motors. It has two fuel doors; one for petroleum and the other houses a charging socket. Use the latter to charge the batteries hidden in its boot floor via a fast charge station (40 minutes) or a standard electrical socket at home. So this is how it works… This PHEV can drive in pure electric mode for 32.5 miles before it needs charging. Regenerative braking aids in filling up the battery as you go, but if you begin to run out of juice, the petrol engine kicks in as a generator. At higher speeds or when more power is required both the engine and electric motors power the car. Push a button marked save and the Mitsubishi will ensure that the current battery level is retained for later use, or press the charge button to manually tell the engine to charge the battery. Instead of silently coming to a halt when the electric range hits 0% you simply carry on like a normal petrol car meaning you can have your cake and eat it. In electric mode it feels brisk with instant torque on tap and 0-25MPH in this new model actually being 2 seconds faster. The silence of driving without the usual engine noise is strange at first, but becomes very relaxing as you tranquilly go about your business. Even when the combustion engine activates its noise is minimal. Visibility is good all around, but the specification we have here has a great 360 degree parking camera in a addition. A system that warns you of a potential collision and can brake autonomously boosts safety. It might not be the most dynamic car in its class to drive, and the ride is a bit on the firm side, day-to-day driving in the 2016 Mitsubishi Outlander PHEV is easy. The CVT transmission means no manual changing of gears and its light steering makes it effortless to change the direction of this 4×4. Speaking of all wheel drive, a button marked 4WD sends power to each corner meaning that whilst the PHEV is kind to the environment, it can also conquer it when required. On motorways there is some wind noise, but nothing really to write home about. If you are likely to spend hours trawling the M25 then the diesel Outlander would be a better choice for you, however, if your commute is 30 miles or so then the PHEV makes a lot of sense. Mitsubishi claims that it can do 156 MPG and just 42 g/km CO2. London's dreaded congestion charge is no obstacle for this car.
But the real draw of the 2016 Mitsubishi Outlander PHEV is that in the same specification it costs exactly the same as its diesel equivalent. No longer do you have to pay the price for adopting new technology. It is now a simple choice to be made based upon how you use your car. In this respect Mitsubishi leads the way and their bold initiative deserves to be rewarded.