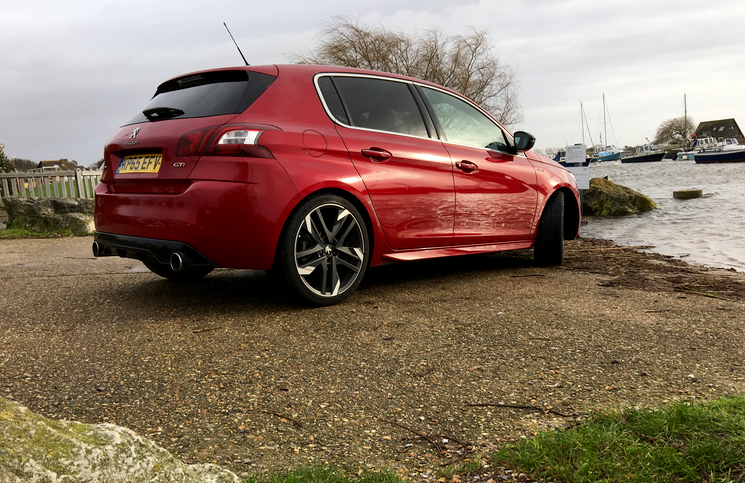 The hot hatchback is an amazing breed born out of enthusiasts not wanting to compromise. Often in life you have to pick one thing over another, such as eating every cake in sight or being able to fit inside your house. The hot hatch very much has its cake and eats every crumb offering practicality as well as go faster thrills. Peugeot are no stranger to these fan favourites and their latest effort promises to pack quite a punch. The 266 BHP 2016 Peugeot 308 GTI hits the road.
Whilst the 2016 Peugeot 308 GTI isn't the most overt car in its class, its more grownup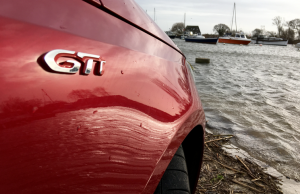 styling will appeal to those who find some of its competitors appearance a tad churlish. LEDs detail the headlights and compliments the neat chrome trim that has been used to highlight prominent elements of design. The standard 308 is a handsome hatchback and so this sports derivative shares those proportions that are pleasing to the eye. Take a step closer to the GTI and you will start to spot the things that mark it out from lesser models. A generous smattering of GTI badging, the Peugeot lettering is picked out in red, and this being the more powerful 270 means that it gets a set of seductive 19 inch alloy wheels. Head around the back and you will find a set of menacingly large dual exhausts. Our test car finished in Ultimate Red looked sophisticated in profile, but suitably aggressive in the details.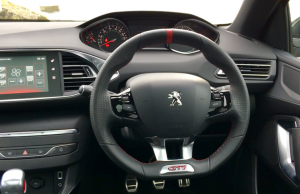 The cabin of this 2016 Peugeot 308 GTI is a highlight as it puts most of its competition to shame. Here the French design flare has sculpted the dashboard and trimmed vents in chrome. A petite in circumference, but chunky in proportion, steering wheel is black with red contrasting stitches. It proudly wears a polished GTI logo at its base. The touchscreen infotainment system houses many of the cars functions meaning that the console is clutter free. This unit offers satellite navigation, DAB radio, phone connectivity, and access to climate control. Two leather and alcantara seats grip the front occupants with swollen bolsters. They are both supportive and comfortable, especially with a massaging function. A huge glass panoramic roof is optional but it does let in a lot of natural light. Leg room for rear passengers is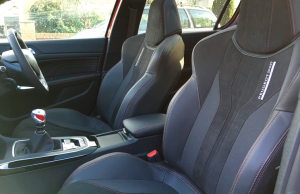 restricted, a predictable gripe carried over from the base car, but a 470 litre boot is perfect for those tedious shopping trips.
Under the bonnet sits a developed version of the same 1.6 litre turbocharged engine from the RCZ R. Just like the curvaceous coupe that we like very much, this car has been developed by Peugeot Sport meaning that some of the best engineers in the world have tinkered with this chassis. This hatch comes in two guises, an entry level 250 model or this full fat 270. Output for the 308 GTI 270 is 266 BHP and 330 Nm of torque. That is enough for a 0-62 MPH time of 6 seconds flat and a top speed of 155 MPH. Clearly this car is no slouch! Another key feature of the 270 car is its 380mm front disc brakes. Large red four piston callipers lurk behind those black spokes, a real incentive to upgrade to the top dog in the GTI range. However, the biggest reason to "go big or go home" is the Torsen limited slip differential which helps the front wheels get power to the ground. When driving the 308 GTI at a pace you can feel the car shuffle power around, and this in tandem with bags of grip means that you can really exploit this cars performance. Its manual transmission will no doubt please purists. Push the sport button and the steering weighting and throttle response increases. A neat touch is a digital torque gauge nestled amongst the now red dials. Not that you need it because the mid-range punch from the turbo once it is on song lets you know exactly what is happening. The small steering wheel adds to an agile feeling that the GTI has. Steering is precise but a lack of feel does distance the driver from the experience somewhat. Being 11mm lower on its new suspension allows for little body roll and a total feeling of composure at all speeds. I am not a fan of the artificial noise that is piped into the cabin on principle, from the outside this car sounds great, but it does add to the ambience. Hit those large brakes and the cars progress is arrested at an alarming rate. They are very powerful and, for me at least, the standout feature of the 270. Once you have finished B-road bashing the French car settles down and becomes a great family asset. Refinement levels a good with a relatively compliant ride. Peugeot even claim 47.1 MPG combined.
Whilst there are more engaging fast hatchbacks out there, very few of them present themselves as such a complete package like the 2016 Peugeot 308 GTI does. It is as happy dropping the children to school as it is hooning on some dynamic bits of tarmac. Approachable, understated, and good fun. You can have a 308 GTI 270 from £28,155.