At this time of year in the UK we get a lot of rain. Rain, rain, go away, come again another day. But it doesn't and the heavens open continuously. However, when the wind is blowing in the right direction, and everyone crosses their fingers, we do get a beautiful crisp autumn day. With crunchy orange leaves underfoot and a blue sky above, it is perfect for dropping the top and going for a drive. This 2017 Mini Convertible John Cooper Works makes for an enthralling companion.
We first drove the new Mini Convertible on its launch in Portugal earlier in the year, but this is the JCW, the daddy, and actually the fastest drop-top Mini has ever made. It certainly keeps up appearances with large intakes and grills adding to a sporting
character. It still has plenty of charm with those large round headlights and typical Mini proportions, but one look at that huge dual exhaust pipe poking out of the back and you know that this is no Barbie car. Intricately stitched into the fabric roof of our test car is the Union Flag, a rather unique touch. Finished in Rubber Green this example was suitably subtle. That is until you start the engine…
The interior is a very upmarket affair as it carries over all of the new design traits found in its hot hatch counterpart. A glossy finish to the dash board along with trendy ambient lighting sets a premium tone. Bolstered leather seats hug you as a masculine JCW steering wheel is presented to you. A widescreen
infotainment system derived from BMW iDrive provides well designed ergonomic interaction. This incarnation of the Mini Convertible does offer more space for rear occupants, but as an adult those seats are more for occasional use. Whilst in the back you can admire the finely crafted headrest backing of the front seats that mirrors the roof design. Its 215 litre boot provides exactly the same storage space as the hatchback but adds a handy folding tailgate.
Flick that aircraft inspired starter switch and the 228 BHP 2.0 litre turbocharged engine burbles into life. The car instantly feels alive and its pulse, even at rest, hints that this is no ordinary Mini. Place the car in its most timid "green mode" and Mini claimed 47.9 MPG combined. The ride is indeed firm thanks to the sporty suspension and large alloy wheels, however, adjustable dampers can be optioned. Around town the compact size of the Mini Convertible John Cooper Works can be exploited and the standard rear reversing camera further makes life easier. Select "mid-mode" and you instantly feel the car become more responsive. Everything is a tad sharper and clearly displays that much loved Mini tribute of agility. This 6 speed automatic gearbox is quick off of the mark and deals with everything from daily dawdling to rapid manual inputs from the paddles. However, this model really comes into its own when you select "sport mode", drop the top, and place it on some challenging forest roads. 0-62 MPH tales just 6.5 seconds and it will go onto a top speed of 150 MPH. As 320Nm of torque from that turbo surges the car onwards the now open valve in the exhaust makes some deliciously dirty noises. As it burbles, pops, and bangs, its way through the gears it simply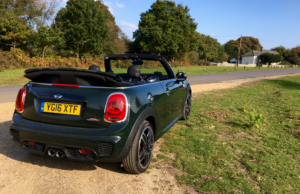 wills you to push it hard. Minus the roof you can enjoy that rude orchestra all the more. Plentiful levels of grip and some impressively communicative brakes means you have the confidence to do so. Precise and well-weighted steering promotes a dynamic change of direction and solid connection between man and machine. The 2017 Mini Convertible John Cooper Works is not only a little pocket rocket, but a genuine drivers car. It is a real hoot to drive as both you and the car nail apex after apex. The laws of physics dictate that the tin top is slightly sharper to drive, but the engineers at Mini have done an astonishing job to maintain good structural rigidity in this convertible.
Of course a model such as this remains a niche, but as a performance Mini it is incredibly well accomplished, roof or not. £26,635 is not a small amount of money for a small car, but in the 2017 Mini Convertible John Cooper Works you are buying something rather unique. If you wish to have more than a simple "wind in your hair" sensation, more like tornado in your barnet, then there is no better soft-top hot hatchback out there.