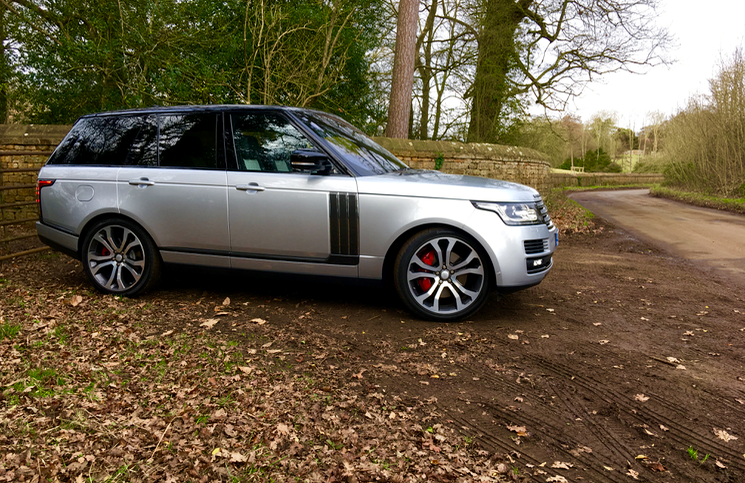 Full-fat Range Rovers are something of a British institution. Like stamps, telephone boxes, and the national anthem, these lovable SUVs have been weaved into our national identity. The latest Range Rover is a masterpiece of design and technology, but what happens if the talented chaps at Special Vehicle Operations get hold of it? Well… The best gets better. Meet the astonishing Range Rover SV Autobiography Dynamic.
Whilst the name is tricky on the tongue, the design is easy on the
eye. A proud stance cuts a familiar shape into its environment. Angular upper proportions meet a more rounded lower body in a fusion that is synonymous with modern Range Rover. The SV Autobiography Dynamic receives alterations to its bonnet, grill, and distinctive side-vents to set it apart from lesser models. Large 22 inch alloy wheels make a statement within those wheel arches. Our two-tone test car looked smart, but also a tad ominous. It is proud in its appearance and clearly an object of desire.
Climbing up and into the Range Rover SV Autobiography Dynamic reveals an interior befitting of a palace. The fit and finish is sublime with every stitch knowing its place. High quality materials forge a grownup, highly polished environment. Sitting high in one of the heated captains chairs front occupants receive, it's hard not to feel a sense of superiority over other road users. Amongst the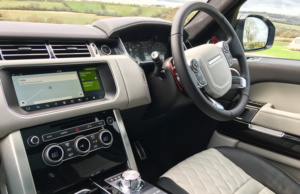 aluminium vents sits a wide 12.3 inch touchscreen infotainment display. This latest incarnation is ergonomic and pleasing to the eye. The rear bench will happily seat a further three with ample leg and headroom for adults at each post. Open the iconic split-folding tailgate for 909 litres of boot space or 2,030 litres with the rear seats folded flat.
Under the calm and collected exterior you will find a 5.0 litre supercharged V8 engine finished with carbon fibre. When awakened it produces the same 542bhp and colossal 680Nm of torque as the menacing Range Rover SVR. Despite weighing 2,457kg the Range Rover SV Autobiography Dynamic will sprint, yes sprint, from 0-60 MPH in just 5.1 seconds and go onto a top speed of 155 MPH. That really is rather impressive when you think about it. At an everyday pace you literally waft your way around the road network with not a care in the world. Even with these large 22 inch alloy wheels the Range Rover soaks up road imperfections with no fuss. This "magic carpet" ride combined with highly suppressed road noise creates one of the most tranquil driving environments known to man. Its unflappable 8 speed automatic transmission supplies seamless shifts. Light control weights make driving this large vehicle effortless and parking is no hassle thanks to a 360 view camera. The fact that this car is opulence personified is maybe not that much of a surprise to you, but what will be is just how composed it is at speed. Put your foot down and that V8 and supercharger pairing comes into play. The volume of torque being utilised by all four wheels has to be experienced to be believed. It is the equivalent of attaching an Apollo rocket to Buckingham Palace! The world around you quickly becomes a blur and the engines song of raw grunt fills the air, but not to the point of irritation. Whilst there is still some body roll, this is greatly reduced by the cars Hydraulic
Anti-Roll Control. Now the "Dynamic" element of its name begins to make sense. Nothing of this mass has any right to handle even half as well as this Range Rover. High levels of grip and plenty of stopping power from a set of Brembo brakes gives you the confidence to use its performance. Take manual control of the gearbox and the changes are crisp and immediate.
As well as being impressive on road, with the now legendary "Terrain Response" system, an adjustable ride hight, and class leading wading depth, the 2017 Range Rover SV Autobiography Dynamic is near unstoppable off road too. Better than just being able to tackle the very worst Mother Nature can throw at it, progress is made in the upmost luxury and comfort. Range Rover claim emissions of 299g/km CO2 and 22.1 MPG combined.
Yes, the Range Rover SV Autobiography Dynamic does cost from £132,000 and that is a lot of money… However, this is quite simply one of the most complete cars to ever grace tarmac. What can't it do? In that respect, it may just be the only car you would ever need to own.