Subaru have calved out a reputation for being rugged and strong, a status that many manufacturers would kill for. However, many people still think of Subaru in their glory days of WRC with blue paintwork and golden alloy wheels. Survival within the highly competitive automotive industry in 2016 requires more than just nostalgia and so Subaru also offers a compact SUV. The 2017 Subaru XV may well be a sign of the company "jumping on the bandwagon" but it aims to deliver core Subaru principles to a segment that is primarily style over sustenance.
The moment you lay eyes on the Subaru XV you know it means business, Its stocky
profile is muscular and bold design work conveys a sense of strength. Our test car, finished in a very distinctive Hyper Blue, sports the revisions of this models recent facelift. New raked headlights are more intricate and detailed, whilst reworked bodywork promotes athleticism. On the diesel model roof rails are included and all models get 17 inch alloy wheels. Good ground clearance and short overhangs hint that this car has been designed for more than just the School run.
Inside you will find a relatively spacious cabin with large windows letting in plenty of natural light. Speaking of windows, visibility is very good all around but this model features a high quality reversing camera in addition. A responsive touchscreen display
handles your infotainment needs. Above the waistline you will find some soft touch materials, yet, below it there are some less desirable scratchy plastics. Overall the interior does feel durable though, something that is important for a family car. Supportive fabric seats are offered to the front occupants and are heated as standard. The rear bench can seat three. There is good levels of head and leg room, however, a transmission hump leaves the middle passenger straddling. A large boot opening means that you can take advantage of 380 litres of space, or if you fold the rear seats flat, 1,270 litres.
Under the bonnet is a 2.0 litre diesel boxer engine of which produces 145 BHP and a pleasing 350Nm of torque. It makes the usual diesel chorus under load but once up to speed it not only displays refinement, but also its strength. In almost any gear that low down torque provides quite the shove making short work of dawdlers on the motorway. At these speeds there is a little wind and road noise. The ride is firm and so speed bumps and potholes do tend to send a thud through the cabin, that said, the trade off is keen handling. Turn-in is precise and overall it is more enjoyable to drive than many rivals. With all wheel drive there is plenty of grip and a reassuring sense that the 2017 Subaru XV will cope with all weather conditions. That is very true, the XV will happily put up with the storms currently battering England, but it is far more capable than that.
Pointing the nose at a muddy incline that seemingly went on forever, the symmetrical all wheel drive, combined with that torque, went to work. Even on standard road tyres the 2017 Subaru XV scampered up the hill without a hint of wheel spin. As the storm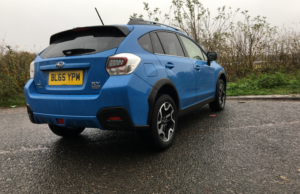 continued to rage we took advantage of its 220mm ride hight and waded through a river. On the other side of the embankment was a torturous trail of chassis twisting ruts that would happily swallow most cars. Yet, this little bulldog of a machine pushed on. I have never witnessed such a capable compact SUV when it comes to driving off road.
The 2017 Subaru XV is a car that I think some of my colleagues have been a bit hyper critical of. Sure, it is not the king of the hill in terms of refinement, but once you factor in just how well engineered this car is to tackle just about any terrain you put in front of it, you can't help but respect the XV. Subaru claim that it will return 52 MPG combined and emit 141g/km CO2. Costing from £21,995 the Subaru XV also comes with a 5 year 100,000 mile warranty.