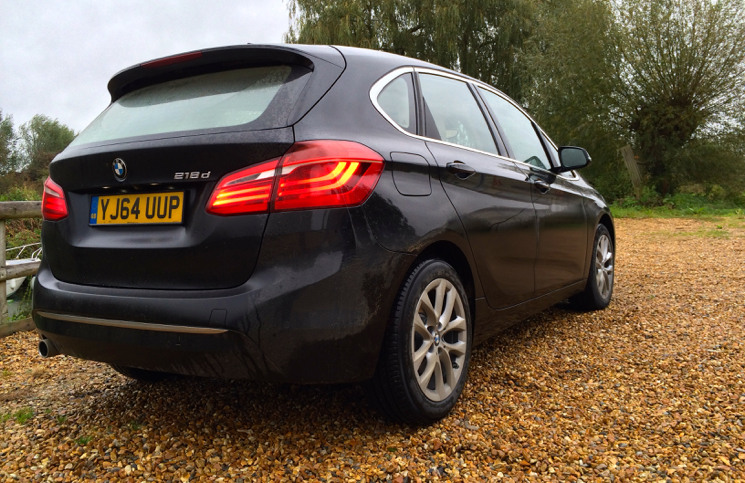 BMW are globally known for three things… Firstly their flagship M performance cars which are truly world class. Secondly their extreme rivalry with two other German luxury brands. The final aspect that has been true of all BMWs since the
dawn of time is that they are rear wheel drive. With the X range of cars they ventured into the all wheel drive segment, but in the grand scheme of things that is only a recent development. To some the thought of a front drive BMW would be sacrilege, however, armed with their experience from the Mini brand the BMW 2 Series Active Tourer becomes the first BMW to use just that. We had to find out what the front wheel drive BMW 218d Active Tourer brings to the table and also see if it is still a true BMW.
This is also BMWs first step into the MPV arena, somewhere arch rival Mercedes-Benz is well established with the B-Class. Proportionally the 2 Series Active Tourer is of a good size and its design is inoffensive. The BMW family characteristics are clear to see with large chromed kidney grills and intricate light clusters. Tasteful amounts of chrome trim detail the bumper and outline the windows along its length. Whilst there is no doubting that there is a premium tone to its aesthetics, to my eyes at least it lacks any sort of individualism and overall comes across as a bit bland. Appearances are subjective, I know, and MPVs are not the sexiest of machines but Citroen managed to pull it off.
The interior of our test car was a masterclass in light airy design. This models large windows flood the cabin with natural light promoting a real sense of space. Canberra beige Dakota leather contrasting with the clacks of the dashboard and console ushered in a classy feel. Piano black elements paired with aluminium makes this car feel expensive. The interiors ergonomics are very good with everything falling to hand. A large display on the console, powered by the latest version of BMW iDrive, houses an excellent satellite navigation system and infotainment options. Its front seats are supportive and ideal for long plods on the motorway.  In the back both head and leg room is generous for occupants in the outermost seats, however, a protruding transmission tunnel in place ready for future xDrive models limits middle passenger leg space. These rear seats are adjustable and even have the capacity to recline. The Tourer's boot is a reasonable size at 469 litres but is smaller than the B-Class. The rear seats neatly fold flat at the push of a button giving you a total of 1,510 litres of space, which is actually more than a BMW 3 Series Touring.
Power for this car comes from a new 2.0 litre turbo diesel engine that when opted for in this model can return a claimed 68.8MPG. This unit is smooth and with 330Nm of torque it has good
levels of "get up and go." Visibility is ok but large pillars do restrict the view at times, that said, parking sensors do come as standard and so whilst parking that isn't really an issue. Its shiny new four cylinder engine is paired with an 8 speed ZF gearbox which, yes it must be getting boring to read the same comment, is absolutely marvellous. Changes are so incognito that you don't really notice them, but better yet is that when requested manually the gear changes are instantaneous. Cruising along this BMW 218d Luxury Active Tourer is perfectly pleasant with only small amounts of wind noise and engine percussion becoming audible when pushing on. The steering is direct and accurate allowing for easy placement of this MPV on the road. There isn't much in the way of body roll around tight corners either, but the trade is that the ride could be interpreted as a bit firmer than expected on Britain's bumpy roads.  Grip levels are high and can be exploited in more spirited driving, but don't expect the same level driver engagement you get in other BMWs, this is an MPV and ultimately being front wheel drive reduces its playfulness.
Don't go thinking that the BMW 218d Luxury Active Tourer is a bad car or even a bad BMW. It is a different BMW, one which is of a flavour we haven't sampled before. As an MPV it scores well on comfort and day-to-day liveability. Producing just 109g/km of CO2 is also impressive. The £34,535 being asked for our test car is expensive, but remember that you are buying a German luxury product and so the options on this model soon add up. Overall we liked the Active Tourer even if it does lack the traditional handling traits of other BMWs.