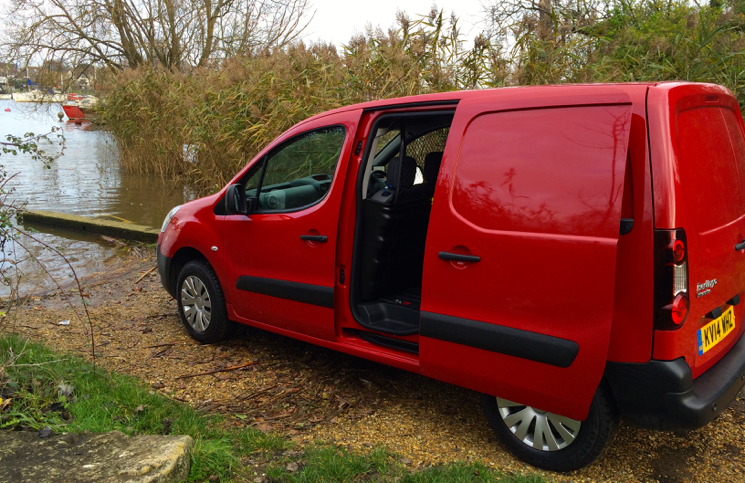 This week I was told, to my horror, that my childhood T.V. character Postman Pat has undergone a dramatic modern-day reincarnation. Gone are the original titles, the theme music has been altered and his trusty Royal Mail van has been
replaced with a 4×4 and helicopter. Clearly a lot has changed since I was a small boy but maybe Pat wouldn't need such an array of costly delivery vehicles if he considered upgrading his to a Citroen Berlingo HDi 90 L1 XTR+. Versatility appears to be Pat 2014's problem, but this little van could just be the solution.
Arriving in Passion Red, hence the theme and me being called Pat all week, this Berlingo looks both modern and functional. Its predecessor was loved by many for its low running costs and huge practicality. We previously tested the passenger version of this Berlingo and found it to be just as likeable as the original. Here we have a much more utilitarian variant and in XTR+ trim sports more plastic cladding, chunkier tyres and a guard below the engine for when the road ahead goes a bit Ray Mears. Its rounded profile modernises the stereotypical box shape for vans making for something a little more pleasing to the eye. This van is available in two sizes L1 and L2. What we have here is the smaller L1 product.
The passenger area of this Citroen Berlingo HDi 90 L1 XTR+ seats three which is particularly handy if you need to take a third colleague on a job with you. However, the middle seat does have limited leg room and so is more for occasional use. A large steering wheel and clear instrument cluster is presented to the driver upon entry. There are plenty of little cubbyholes dotted around as well as a very useful overhead shelf. Large windows keep claustrophobia at bay whilst the minimalist yet durable features attempt to maximise space. Satellite navigation comes as standard. Our Berlingo had the ability to connect a phone or music device via Bluetooth which helps stave off boredom on motorway trips. Moving back into the cargo bay 3.3 cubic metres of "van stuff" can fit in the back making it large enough to swallow a Euro pallet. However, open the cage divider whilst folding flat the passenger seats and you can boost that to 3.7 cubic metres. The load floor is nice and
low and the sliding side door, whilst not the largest, does add to this vans diversity. Its two rear doors can also be opened to an impressive 180 degrees making loading even easier. payload capacity is 625KG.
Putting the Citroen Berlingo HDi 90 L1 XTR+ into motion is a 1.6 litre four cylinder turbo diesel engine. It is a good strong workhorse producing 90HP and generating 215Nm of torque from as low as 1,500rpm. Thanks to that low down pull the Berlingo never feels sluggish even when loaded. Going about business around town, this van does a fine job with well weighted steering and very supple suspension. Soaking up lumps and bumps in the road with ease, this trait is also also shared with the passenger variant. There is also a lot of grip to be utilised which inspires confidence particularly in tricky conditions. Its diesel engine isn't the quietest, especially under load, yet its running is very smooth. Venturing out and onto the motorway the Berlingo doesn't feel out of its depth and thanks to this cars optional cruise control those pesky average speed cameras were no bother. Not content with simply plodding along? This Citroen Berlingo HDi 90 L1 XTR+ is capable of getting a shift on for those overtaking manoeuvres necessary to dispose of motorway dawdlers. There is a fair bit of road noise which echoes around the cargo area. Without a solid bulkhead that sound travels into the cabin and on long journeys does result in the radio being turned up. This XRT+ is equipped with the aforementioned rugged tyres but also a raised ride hight meaning that if you are required to venture off of the beaten path, this van is well prepared.
Overall we were pleased with the Citroen Berlingo HDi 90 L1 XTR+ and how it performed. It is a well rounded machine and will no doubt prove to be a useful tool in the arsenal of any business. We averaged 37MPG combined which is less than the 56.5MPG Citroen claim. However, at our test cars £15,580 before tax it is rather good value adding to a large list of positives. Yes, incase you were curious, we would recommend the Citroen Berlingo van to Postman Pat and his black and white cat.