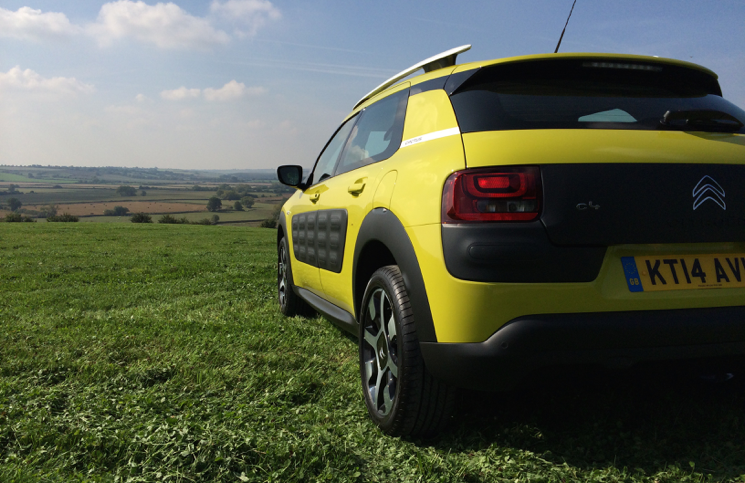 Life presents us many choices, both big and small. On a journey do you take the scenic route, or the motorway? At a restaurant should you choose the pork, or maybe the lamb? When decorating the living room should it be cream, or perhaps a
more adventurous shade of red? Buying a car may well be an exciting event but there are a few land mines to navigate first. Making the right choices in specification is critical, after all you are going to have to live with them. Life does indeed present us with many choices, but the Citroen Cactus Flair e-HDi 92 ETG might just be the wrong one.
Now, before we get into the meat of this road test I want to point out a couple of things. The Citroen Cactus as a whole is a great product and a very refreshing alternative to the usual offerings in this segment. We have tested the PureTech 110 and Blue HDi 100 previously and found them both to be valid contenders for a space on your driveway. They, however, were both manual cars and what we have here in the Citroen Cactus Flair e-HDi 92 ETG is an automatic gearbox.
Let us start with the visuals of which I am a big fan. In outrageously bright "hello yellow" its extreme styling is highlighted, quite literally. Its rounded, almost concept car, shape is very unique and can be likened to something from another planet. A thin band of LED lights defy the norm being separated from the main headlights. Those bobbles along the cars length are called AirBumps and whilst they provide an interesting design feature, they also can absorb small impacts protecting the rest of the car. Smart 17 inch diamond cut alloy wheels and stylistic roof rails complete what has to be one of the most attention grabbing cars we have tested.
The interior is another strongpoint of the Cactus promoting plenty of space. Large windows teamed with a panoramic roof fills the cabin with light. Said roof doesn't actually have a blind attached to it as it has been specially treated to prevent the cabin rising above temperatures that would be uncomfortable for occupants. Whilst on the subject of neat features, the windscreen washer jets are nowhere to be see and that is because the washer fluid is ejected from the wipers themselves. In the front you will find an almost sofa-like arrangement best appreciated when the central armrest is stowed away. A minimalist dash, only garnished with a touchscreen infotainment system and a small rectangular screen for instrumentation, is completely clutter free.
Luggage inspired touches such as leather doorhandles and a glovebox that not only has plenty of space just like travel trunk, but actually looks a bit like one. Rearward there is plenty of head and leg space for occupants, however the rear windows only "pop-out" as opposed to wind down. 358 litres of boot space is reasonable and perfectly adequate for the weekly shop. In Flair trim this car possesses half leather seats, tinted windows and a good sound system.
Driving the Citroen Cactus Flair e-HDi 92 ETG would be a relatively pleasing experience if it wasn't for its gearbox, more on that in a moment. The car has good levels of grip which can be exploited when driving on engaging roads and body roll isn't too bad either. The steering could do with a bit more feel to allow better driver feedback, but it isn't much of a deal breaker. What is very much a deal breaker, in my eyes, is that ETG gearbox. Not only is it slow to respond to its situation but each change is accompanied by a jolt as it fumbles another cog into place. You could be halfway around a tight corner and it will decide to change up, or my personal favourite that I experienced was watching it panic and select an inappropriate gear. I required a bit more acceleration from the car and so put my foot down, the logical thing for a gearbox to do would be to change down a gear or two, but instead in a complete frenzy it changed into first and buzzed the limiter before finding a more relevant gear. You can mitigate this problem by using the paddles provided, but doesn't that undermine the whole point of buying an automatic if you have to change manually? This is all a great shame because whilst its 92HP engine doesn't make it a fast car, it is a good performer around town and on the motorway. We achieved 57MPG whilst testing the Citroen Cactus Flair e-HDi 92 ETG.
Think of the Citroen Cactus Flair e-HDi 92 ETG as a pretty good roast dinner, but spoilt by some appalling gravy. There really is a lot to like about the Citroen Cactus as a whole but this gearbox, just like the gravy, rather ruins the package.