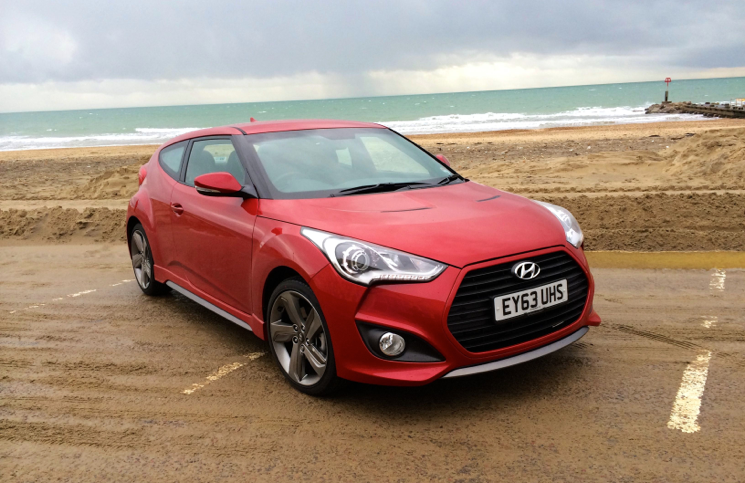 Now this is a tricky one… The Hyundai Veloster Turbo is a very unusual sort of car, looks aside. You see, the question is, 2+2 coupe or hot hatchback? Whilst this car has a coupe profile it also has a rear door. Note "A" rear door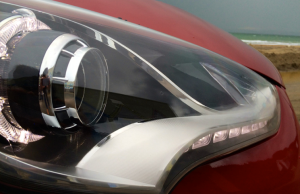 on the passenger side of the car, not the conventional pair. Powered by a 184BHP 1.6 litre turbocharged petrol engine, it has the makings of a of a fast hatchback. An interesting concoction, but will it turn out to be a exciting Margarita or something of a Frankenstein's monster?
Visually the Hyundai Veloster Turbo demands attention. Its gaping front grill and bulging headlights set the slightly quirky tone that runs throughout the car. However, strong shoulder lines and that sloping roof hint at the performance that sits under the bonnet. The highly sculpted rear end split opinions amongst friends, yet personally I liked its unique appearance and those centred dual exhaust pipes can not have their menacing appearance denied. In red with smart 18 inch alloy wheels the body shape of the Veloster is further highlighted resulting in many turned heads.
Moving into the interior of the Hyundai Veloster Turbo S, its extraverted design continues with swooping lines shaping the dashboard teamed with vertical air vents. The console is headed by a 7 inch touchscreen display that features interfaces for access to your phone using Bluetooth, the radio and other media devices that can be pugged in via USB or
AUX. Its turbo branded seats are well bolstered, hugging passengers and doing a good job of keeping them in place during more spirited driving. Instrumentation is easy to read for the driver and I particularly liked the clean look of the clocks only highlighted by a blue glow at their centre. In the back there is a surprising amount of leg room for the two rear occupants, though that angled roofline does cut down on headroom. As for that obscure third passenger door, it does have its uses. Whilst maintaining a coupe profile the added practicality is most welcome when you tell someone to jump in the back. It may well be a narrow opening, but it sure beats getting out and folding the seat forward every time.
Starting the Veloster Turbo reveals a smooth idling engine that is quiet and refined at low revs. Bumbling about town the 195lb-ft of torque on offer makes swift work of getting out of junctions or taking advantage of a gap. Visibility is good in all areas except for the rear where a small split view can be hard to see out of. At low speeds the steering is light which makes it easy to navigate the tight turns of smaller roads. However, take the Veloster Turbo out and away from daily urban grind and a grin waits to form on your face.
Under acceleration the car becomes a rewarding machine to drive with minimal tubro-lag providing a surge up and into the strong mid-rang of the engine. Whilst on paper its figures are no match for top flight hot hatchbacks in terms of 0-60 times, the combination of low down torque and a healthy dose of power means that it continues to pull strongly at higher speeds. The gearing in the car is well balanced for both fuel economy, the lowest we ever saw was 32MPG and it can be as high at 41MPG if you're good, and a comfortable motorway cruise. Changes themselves are satisfyingly snappy and invite the use of some heel-toe action. Driving on the twisty stuff becomes exciting when you use the turbo to your advantage upon the exit of a corner. The only real downside of the Veloster Turbo on the move is that when you are driving, let us say enthusiastically, understeer does come into play a bit sooner than you would like. Its steering provides good feedback and the suspension allows for very little body roll, that said, do be prepared for a firmer ride as a result.
A Hyundai Veloster Turbo S, the very car we have been testing here, costs £20,000 and if you think about it that is rather good value. It undercuts an equivalent VW Scirocco in terms of price but also packs 184BHP, not to mention the "turbo bragging rights" down at the pub. Those looking for an all-out speed machine need to be looking higher up the food chain and have bigger wallets. The Veloster Turbo serves as a good middle ground for those who are after something a bit different with a good "bangs for bucks" ratio.
So what is the Hyundai Veloster Turbo in the end? Coupe, hatchback, none of the above? To be honest I'm still not sure, but what I am sure of is that it is really rather entertaining to drive.