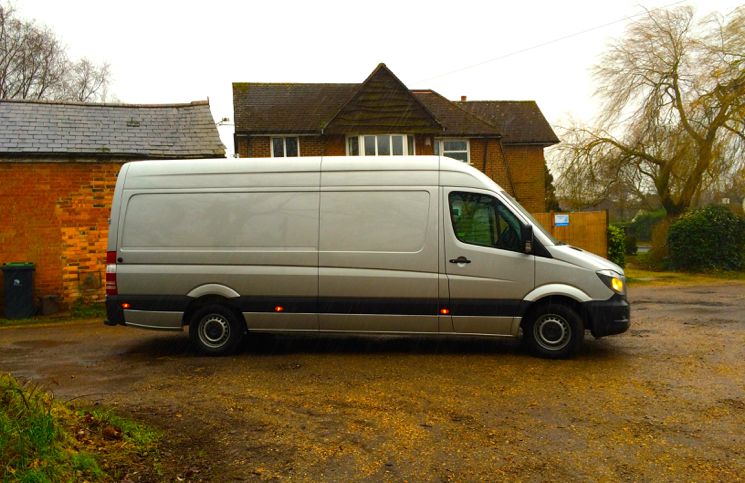 When it comes to vans size matters. Don't let the postman with his tagline of "it does the job" persuade you otherwise, the most useful van is the one you can fit the most stuff inside. That is quite a
generalisation and smaller vans do have their place, but when it comes to hauling an avalanche of miscellaneous goods, bigger is better. Dining room set? No problem. Fridge freezer? Easy. Entire bathroom suit? Piece of cake. In fact, this Mercedes-Benz Sprinter 313 CDI LONG WHEELBASE HIGH ROOF will swallow all of that in one go and still have plenty of space for more.
At nearly 7 metres in length and not too far from 3 metres high, there is no denying that this Mercedes-Benz Sprinter 313 CDI LONG WHEELBASE HIGH ROOF van is a behemoth! Doing a lap of this vehicle can take up much more of your day than anticipated as it is so vast. Its chiseled profile is bold and delivers the impression of a strong working machine. A large grill plays host to the three pointed star, something it wears proudly and a key reason why a business might choose the Sprinter over a competitor. This vans optional Brilliant Silver Metallic paint compliments the exterior design emphasising its professional demeanour.
Climb skyward and into the cabin you will find yourself in one of the most commanding driving positions possible. High above the traffic you can see all the goes on through its large front windscreen. Sat before the driver is a simplistic but clear instrument panel and large steering wheel with mounted buttons. Falling easily to hand is the gearstick in this manual model which is housed in the dashboard just below the centre console allowing for ample leg room for your other two passengers. The drivers seat has plenty of adjustment and deployable cup holders form the middle seat are a nice creature comfort. Its centre console houses optional air conditioning and a radio including Bluetooth. Its aesthetic design is nowhere near as pleasing as the exterior and dates the cabin with its blocky architecture. Storage in the cabin is plentiful with overhead compartments, cubbyholes, large door bins and a lockable glovebox. The Sprinters interior feels durable but places function before all else. Behind the solid bulkhead you will find a colossal 14m3 of space available. Opening the large 270 degree doors is like having a bowling ally presented to you. The cargo bay is well lit and possesses multiple anchoring points for objects that are likely to move around. As well as its rear doors our test van had a large side door which is very handy for manoeuvring large objects. If it is usable space you are after, this Sprinter does a fine job.
The downside of a large van is obviously its size. Dimensionally the Mercedes-Benz Sprinter 313 CDI LONG WHEELBASE HIGH ROOF is not the TARDIS and so you have to remember just how
much van is behind you when parking or navigating sharp corners. This specific Sprinter lacked a reversing camera or even parking sensors and unless you are a Jedi and use the power of "The Force" whilst driving, we would highly recommend them. Scale aside, this Mercedes-Benz is actually quite easy to drive. The controls are light, meaning you are never wrestling this big boy, and its turning circle isn't bad at all. Its 2.2 litre turbocharged diesel engine may only produce 129HP but 305Nm of torque is more than enough for strong overtaking manoeuvres and lugging around heavy cargo. Whilst the 6 speed manual gearbox has a nice set of ratios for mixed driving, the feel whist changing is somewhat gravely and not very slick. Wind noise is surprisingly not all that intrusive, considering that a van of this size is about as aerodynamic as barn, and on the motorway the Sprinter settles down for longer trips nicely. Officially this van claims 35.3MPG which is a key consideration for any business looking to reduce fuel bills. Our van was fitted with a Euro VI emissions rated engine meaning that it emits 195g/km of CO2.
As a complete package the Mercedes-Benz Sprinter 313 CDI LONG WHEELBASE HIGH ROOF acquits itself very well. Whilst providing some serious utility with all of that space in the back, it never seems intimidating to drive which is a pleasing trait indeed. At £32,964 the Sprinter does demand a premium over competitors even with costly equipment factored in. However, this Mercedes-Benz offers more than just a large cargo bay… Many businesses will enjoy the "first impressions" value that its three pointed star has on their customers.