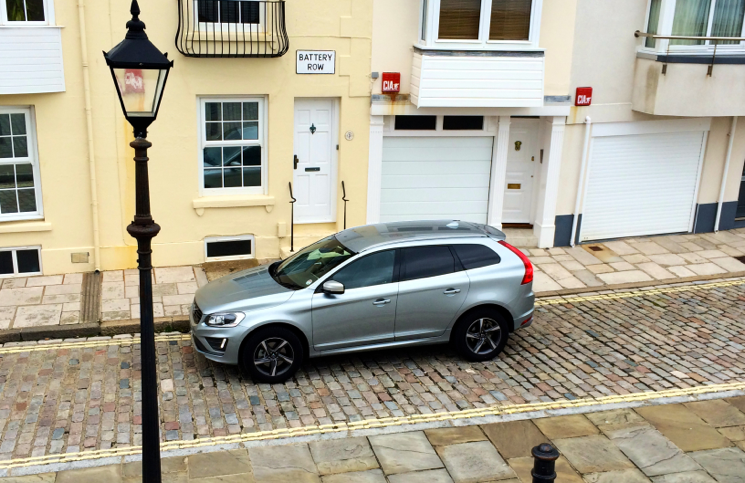 The very best cars do so much more than their stereotypical function that the class entails. Top hatchbacks offer more than a simple means to transport the family. The most acclaimed estate vehicles bring more to the frontline than the ability to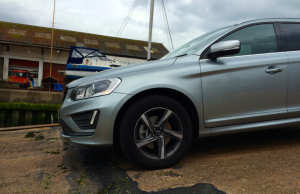 carry large objects. In a highly competitive market such as the automotive industry, every manufacture has to strive to be the best and that means creating a synergy that incorporates expectations, but also possesses the ability to surpass them. This Volvo XC60 D4 R-Design AWD GT is such a machine.
Presenting onlookers with a strong and proud stance, the XC60 immediately commands respect. Its large contoured shape stands out like a sculpture in its surroundings. It is a very clean and modern design which conveys a highly premium aesthetic. There are some brilliantly detailed areas of the exterior such as the bonnet that acts as a canvas to bold lines. This R-Design model with its Electric Silver paint and very smart alloy wheels comes across as a truly executive machine.
Another trait of the R-Design trim can be found in the cabin. Two magnificently comfortable and supportive bolstered sports seats welcome you inside. The part leather part Alcantara finish makes them not only look great, but also fit for purpose. A clear screen angled towards the driver provides a display for satellite navigation and infotainment such as Bluetooth, internet access and DAB radio. Again, like many Volvo's at the moment, the centre console does look dated with its mobile phone design. However, that is only one small part of what is an exquisitely put together interior. Everything feels solid and well engineered with attention to detail that I just love. The front seats are heated whilst the rear offer passengers good head and leg room. Its boot, as you might have suspected, is huge and will swallow most things you throw at it. Fold the rear seats flat and bikes will happily find a home. A nice trait of the rear bench is that the seats fold flat individually. This was particularly useful when I found myself transporting four adults and a snowboard.
The Volvo XC60 D4 R-Design AWD GT is bristling with technology which is all at the drivers disposal. Safety technologies such as lane detection, speed limiters and proximity warnings all do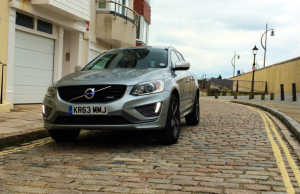 a fine job. Set the radar guided cruise control and let the XC60 do all of the work. All you have to do is steer an the car will accelerate and brake keeping a safe distance from the car head all by itself. This magic trick impressed a lot of passengers. Take control yourself and you will find this 4×4 to be a very pleasant car to drive indeed. The steering is well weighted and very accurate and the throttle response from its 179BHP 2.4 litre turbocharged diesel engine is good. For a diesel the growly engine note under hard acceleration is actually quite pleasant. For such a big vehicle the XC60 feel light on its feet changing direction with very little lateral movement in the body. This is thanks to the suspension setup, but the trade is that the ride can be a bit firm at times. Its 6 speed automatic transmission quietly swaps cogs and goes about its business largely unnoticed. Aluminium paddle shifters on the steering wheel can be used if the mood takes you. This being a 4×4 means that it has some off-road capabilities. That torquey diesel engine sending power to all four wheels will get you through the bad weather the UK experienced earlier this year. Good levels of ground clearance and a hill descent function are on offer for those who area  bit more adventurous. With a high driving position and big windows, this Volvo is easy to drive in any environment. Blind spot indicators do their bit and big mirrors ensure good visibility. All-around parking sensors make sure you don't pancake your neighbours Mini. All-in-all the XC60 is a relaxing drive but one that is also a bit more spirited than competitors when the road gets twisty. Its brakes and high grip levels allows the driver to feel at ease when carrying speed.
This Volvo XC60 D4 R-Design AWD GT is more than just a practical car with all wheel drive. Its grownup character and breadth of abilities make it very likeable, much like a loyal family pet. There is no denying that this is the best car in its class. Why? Because it doesn't just tick the boxes… The XC60 goes beyond what you expect of it. As tested this car came to £45,150 but as mentioned, that does get you a model with more technology and refinement than you can shake a stick at.