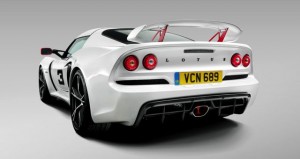 The Legendary Colin Chapman had a famous phrase that he tagged to all of his cars, racers and road goers alike. "Add lightness!" Lotus are currently undergoing a transformation from sports car manufacturer to luxury supercar maker, but this all takes time and so today we are stuck in the middle. To help bridge the gap Lotus has unveiled the new Exige.
The name returns after euro emissions laws killed off the much loved featherweight. Weighing in at just 1,080KG and powered by the Evora's mighty 3.5 litre V6, the cars acceleration is not far off that produced by some of Italy's finest. Changing more than just the engine, Lotus have gone to town
with a redesigned body to match the new cars grunt. Front splitter and fixed rear wing ensure that this car is as nimble as that annoying insect you can never quite swat.
The new Exige hits the roads later this year.