The recent safety deposit box robbery in London's Hatton Garden shocked the country as such a cunning and ambitious blag has not been seen in decades. It took a lot of planning, some ingenuity and the right tools for the job. Whilst we do not condone the thefts, it does at least show that there is a better class of criminal than those who simply wave a gun at a cash register. This topic got us thinking about getaway cars in a fictitious scenario. Whilst the Great Train Robbers favoured the MK2 Jag, this is 2015 and it takes a bit more than a posh motor the escape from justice. Here are our top 5 getaway cars for a heist.
5. 2015 Jaguar XF S
Harking back to the days of The Great Train Robbery, the new 2015 Jaguar XF S makes it into our top 5. Why? Firstly, for the same reason its forefather played a role in Britain's most infamous robbery… POWER. Whilst the MK2 was reasonably quick, this XF in 3.0 litre V6 guise produces 375BHP and 332lb ft of torque. 190KG lighter than the outgoing model, the XF should provide good agility as well as plenty of space for our "swag."
4. Ford Transit Custom Double-Cab-in-Van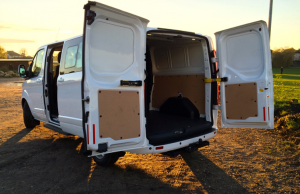 Back in the day the vast majority of getaways involved a Ford Transit van at some point. They were nimble for a van, not too shabby when it came to performance, but best of all you could fit a lot of loot in the back. Today the Transit Custom is the best incarnation of this icon and drives so fantastically well. We have opted for the Double-Cab-in-Van meaning we can seat six crooks and still have plenty of space in the back. Check out our review of this Transit HERE.
3. 2015 Range Rover Sport SVR
Arguably the only car you need. This all-terrain machine means that we could make a clean getaway into the woods where the Police would struggle to
follow. Fording rivers and scaling mountains isn't all this car is good at, the SVR model is capable of 0-62MPH in just 4.5 seconds thanks to a 5.0 litre V8. However, we would likely get caught at a petrol station due to its fuel consumption.
2. 2015 Ford Focus RS
Ford's latest Focus RS is the most capable. A 2.3 litre turbocharged EcoBoost engine powers all four wheels giving them more than 320BHP. All wheel drive will give our getaway driver more confidence in the often rainy conditions the UK harbours. Reasonable fuel economy for the performance and Ford Focus practicality makes this a key contender. Full details on the 2015 Ford Focus RS HERE.
Ariel Nomad
This bonkers machine has it all. Utilising the lightning fast Ariel Atom as its base, the Nomad adds off road ability to the mix. Still capable of 0-60MPH in 3.4 seconds, this 670KG scamp may draw attention, but it wont be hanging around for long! Yes, it will not be able to carry very much in the way of cargo, but its breadth of abilities gives you the best chance of escape.
So there you have it, our top 5 getaway cars for a heist.