Volkswagen Motorsport is undeniably in fine fettle right now. Since the German powerhouse's entry in to the World Rally Championship, Jost Capito's outfit have conquered all before them, tearing up gravel and tarmac alike and waltzing their way to back-to-back drivers' and contractors' championships. That success has clearly inspired VW racing division chiefs to spread their wings and dip their toes into the very different world of closed-circuit racing. In a move reminiscent of  Citroën Motorsport's shift into the World Touring Car Championship in 2014 after years of rallying success, VW have confirmed that they will be testing two production-based concept versions of the seventh-generation Golf at the remaining four race weekends of the Touring Car Racer International Series.
For those unfamiliar with this particular series (it took us a fair bit of digging to get fully clued up on the concept), the TCR is a newly created international touring car category for customer racing teams. Conceived by former World Touring Car Championship supremo Marcello Lotti, TCR aims at offering production-based technology for independent teams without the mammoth costs associated with competing in the world's premier touring car championships such as DTM and WTCC.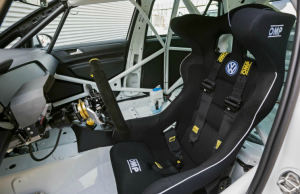 Volkswagen's test programme will be spearheaded by motorsport chief Jost Capito, the mastermind behind the company's recent WRC domination. He will oversee the running of a pair of race-spec concept cars based upon the high performance Golf R production model. Powered by an upgraded version of the R's 2.0 litre turbo engine, the TCR test mules will generate 325bhp and 302 lb/ft torque and feature a number of track-ready refinements, including Volkswagen's DSG dual-clutch gearbox, 8-inch racing rims and a wider chassis than that of the production Golf. Throw in a newly designed aero pack, complete with towering rear wing and carbon front splitter and the TCR-honed Golf certainly looks every bit the track star.
The test cars will be run from now until the end of the 2015 TCR season under the colours of Team Engstler, whose director, Franz Engstler, is one of the most experienced touring car racers around and current WTCC Independent Drivers' champion. Additionally, the boys and girls at VW Motorsport will be able to pick the brains of their counterparts at SEAT, whose Leon Cup Racer already competes for several of TCR's customer teams.
Volkswagen bosses say the TCR test project will be run with a view to embarking on a potential customer racing programme from the 2016 season onwards.
The two cars will make their test debuts under competitive conditions at the eighth round of the 2015 TCR season at the Red Bull Ring in Austria.