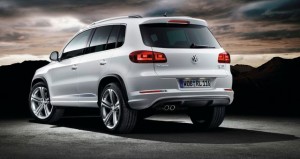 Volkswagen's new R badge is finding a home in almost every corner of the brands line-up. Above the legendary GTI label, R can be found on all of VW's current motorsport efforts including their new WRC Polo that is set to hit the rough stuff next year. The Golf, Polo and Scirocco all have the letter attached to them but with rival BMW placing their fabled M badge on their 4X4's, how will VW respond?
Well, like this. Here is the new Tiguan R, much like the standard car but a bit more aggressive. Just like the M- sport pack equivalent, ticking the R box whilst ordering a Tiguan will give you this
more masculine bodykit that includes; restyled bumpers, grills, side skirts and 19 inch alloy wheels. Inside the cabin is fitted with sports seats and aluminium pedals as well as being garnished with the R logo.