No one builds a sports car like the British, and no one builds a car like Aston Martin. The net result is a line-up of machines that are charming, involving when driven and engineered to perfection. Each car really does promote that Aston character and the range topping DBS is no different. With a magnificent V12 under the bonnet this Carbon Edition is the icing on the cake.
SO, whats new with the brute? Well that fantastic "Flame Orange" paint is a new option along with a "Ceramic Grey", pair those with a blacked-out grill and this car looks even more intimidating than the original. Those gorgeous diamond-turned rims are exclusive to this edition and we think that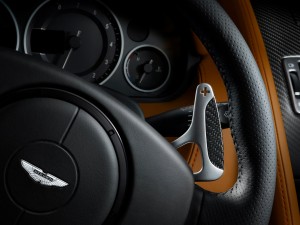 Aston has got the design of the DBS' new shoes spot on. Carbon fibre rear lamps and smoked lights are also on the options list as well as some carbon trinkets for the cockpit.
Costing £186,582 in coupe form and £196,581 as the Volante, we already know that this car is worth every penny.