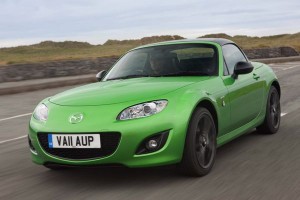 What is the best convertible on sale today? Gallardo Spyder? SLS Roadster? Well, maybe if you have a chunk of change to spend on a sports car but the peoples choice will always be the Mazda MX-5. The plucky little car is tremendous fun to drive and very well priced. Thanks to its success in Britcar, Mazda today unveiled a new special edition.
The MX-5 Black, yes we know its green, is inspired by the 275BHP GT that was entered in the 2011 event. Quite rightly so as the MX-5 racer punched well above its weight taking on the likes of Ferrari. The Black gets those snazzy 17 inch rims, a unique interior and a contrasting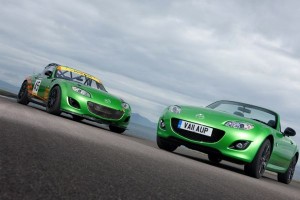 roof colour. Only 500 units will be produced and each will cost you a very reasonable £22,995.