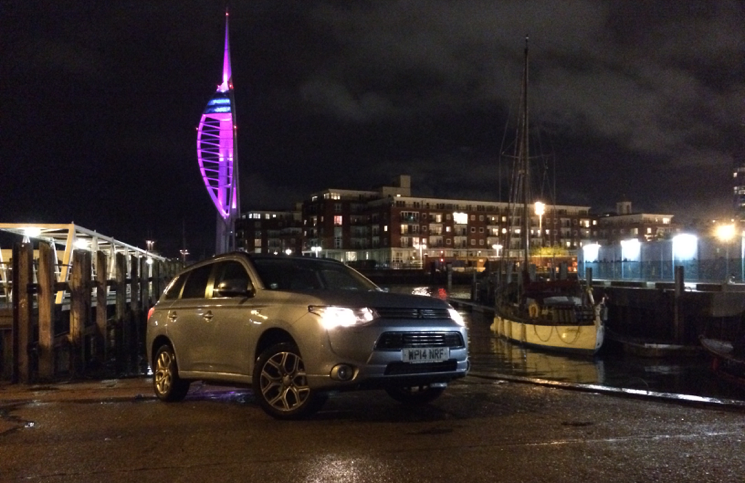 In a world where we are making a conscious attempted reduce our environmental impact, don't you find it a bit funny how one of the most popular automotive segments is the SUV? Whilst we recycle and use energy saving lightbulbs, the same
small families are choosing a larger more polluting car over a traditional hatchback. This paradox is a growing trend and whilst SUVs are becoming ever cleaner, it always strikes me as being a bit odd when "Mr Green" turns up in a crossover. SUVs are the current market trend and that is what makes the 2014 Mitsubishi Outlander PHEV such a clever move. Whilst plug-in hybrids aren't anything new, Mitsubishi has recognised not only that electric cars have their appeals, but flaws also. Introducing a strong compromise into the fastest growing segment has paid off.
To the casual observer the 2014 Mitsubishi Outlander PHEV looks just like the standard Outlander. A strong stance with traditional 4×4 proportions gives the overall design a dose of authority. But look closer and the differences become apparent. The biggest giveaway is the cars PHEV badging, that and the fact it might glide past you emitting no noise at all. A unique colour as found on our test car might also tipoff someone in the know. There is a fuel door on either side one for conventional petrol, the other for standard and fast charging. Subtle bodywork changes also make this Outlander more aerodynamically efficient. It isn't a bad looking car, but more importantly, it looks like a car a normal person would buy as opposed to someone with a wind turbine on their head screaming "Mother Earth is dying and the end is nigh."
Enter its spacious cabin that, for all intents and purposes, is completely recognisable as a cars interior and not some over the top sci-fi greenhouse. You sit high in a commanding driving position with an easy to read instrument cluster before you. The seats are supportive and in this specific car were heated and covered in leather. Aesthetically the interior of the PHEV is inoffensive with gloss black trim surrounding the touchscreen infotainment display. Some plastics do come across as a bit low-rent, but overall it doesn't feel as if anything is going to fall off in your hand. Rear occupants are treated to vast amounts of room with enough head and leg space for even the tallest specimens. What is also impressive is that the floor is almost completely flat, despite being all wheel drive, meaning that all three seats can be used to their maximum potential. The boot is also large completing what is a very practical package indeed. The only downside of choosing the PHEV over the standard diesel is that you can't have seven seats as the boot floor where they would be stored is full of batteries.
Push the starter button on this 2014 Mitsubishi Outlander PHEV, select drive and whisper into motion. Now here comes the science… The PHEV is powered by an electric motor and a 2.0 litre petrol engine. Both of these sit side by side in the engine bay. When the car is driving at up to 70MPH, dependant on throttle usage, it is completely electric with no combustion. At above that speed the petrol engine kicks in to help aid the electric power. When the battery is starting to run low the engine will again start and act solely as a generator to charge it to a sufficient level. The transition between this two states is seamless and the near silence of electric mode is only turned up to a quiet hum when the engine turns on. There is no noticeable change in performance which is a great achievement. Acceleration is good and that instant torque is nice to have in a urban environment. Demand more power than the battery can provide? Watch the dashboard dial flit from eco to power and the engine will again boost the output. However, running around town you can easily run this car on electricity alone. Just on the battery Mitsubishi say you can do up to 32.5 miles, we achieved around 28/29 making their claim believable. Visibility is good and the steering is light at low speeds. At a faster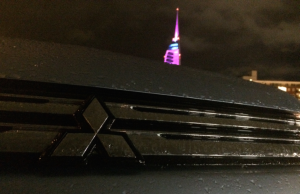 pace the extra weight of the batteries is noticeable and promotes some body roll and understeer, but that is when you are really pushing on. There is notable road and wind noise but that can be attributed to the lack of engine commotion, these sounds would usually be masked by engine noise. This car also features regenerative breaking, the motion of witch can be adjusted via two paddles on the wheel. On the motorway the 2014 Mitsubishi Outlander PHEV is perfectly pleasant, but with the petrol engine doing most of the leg work it is here where your fuel consumption suffers. Over a week of both town and motorway driving we achieved 37MPG which is still respectable. The fuel gauge only really started moving when at speed on the motorway, meaning that if your commute to work is 30 miles or less it is completely conceivable that you could run this car on electricity alone. A fast charge can get you to 80% battery in  less than half an hour, but you can charge via a standard wall socket also. I live near a fast charger that is also free and so if I were to just bumble around town I could actually run this car for a grand total of £0 thanks to it also being road tax exempt. London Congestion Charge? What charge? This 2014 Mitsubishi Outlander PHEV also has two other nice features. A button marked charge which allows you to bring the engine into play at any point to charge the battery, but also one called save which ensures the car retains that battery level ready for you to go all-electric when you choose.
I have seen other people achieve up to 90MPG when really making an effort to spend most of their time in EV mode and Eco. I drove this Outlander as I would any other car I use be using and was still impressed with all of the befits that this plug-in Hybrid can offer. My only real niggle with this Outlander is that the satellite navigation is not the most ergonomic system I have come across and can be a bit frustrating at times.  For the majority of people who buy SUVs this 2014 Mitsubishi Outlander PHEV is a watershed moment. It is reasonably priced starting at £28,249 including your £5,000 government grant, it is well engineered, as practical as any other family car, relaxing to drive and can be run for very little. I am indeed very impressed with the Outlander PHEV and judging by strong sales, so are Mitsubishi.