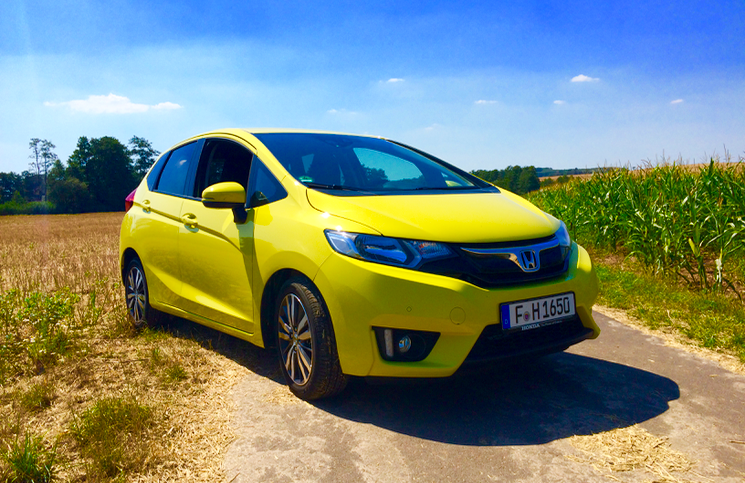 2015 is a very big year for Honda with plenty of new products hitting the road. Civic Type R and NSX are doing battle on track, but there is also a war to be won in the showroom. The Honda Jazz
might not be a hybrid rocket ship or an ASBO on four wheels, but it is a very important car. Honda have sold over 300,000 of them since 2002 and its loyal audience means that this all-new generation of Jazz needs to hit the nail on the head first time. So can it? Does this 2015 Honda Jazz do its forefathers justice? We went to Frankfurt to find out.
The new design is more dynamic in its styling than any Jazz that has gone before it, and our test car finished in a vibrant tone of yellow shows that the average age of ownership could descend. Just like the rest of the Honda portfolio, the 2015 Jazz sports the new family face but does retain a profile that is what you would expect from its lineage. This short and stout city dweller dons some bolder character lines in a bid to stand out in this crowded sector. With a set of smart 16 inch alloy wheels, this new car does a good job of being smart enough to keep its core customers happy whilst looking contemporary.
Entering via one of this cars wide opening doors is like stepping into the TARDIS. It is very much a case of being "bigger on the inside." Large windows amplify this by letting in plenty of natural light. There is actually so much space in this little package that you are now better off for rear leg room in a Jazz than a standard Mercedes-Benz S-Class. In the front you will find Honda's new 7 inch touchscreen infotainment display which allows users to access phone connectivity, DAB radio, and satellite navigation. This Android based system is being rolled out across the Honda range. Just below you will find a glossy climate control panel which makes the centre console look just as modern as the exterior. Whilst the cabin materials appear durable, some do feel scratchy which is a shame. Clear instrumentation and good all around visibility adds to the Jazz's ease of use. Versatility is very much top of this little cars agenda with Honda's Magic seats welcoming even the bulkiest of items. Boot space is pleasing at 354 litres with the seats up, or 1,314 litres when the rear bench is flat. The front passenger seat can also be stowed granting items up to 2.5 metres long access, you know, for those moments when Nan wants to go surfing.
This "all-new" car really is all-new as it receives the latest 1.3 litre VTEC petrol engine. Emitting 106g/km of CO2 as well as claiming a 61.4MPG fuel consumption figure in CVT guise, makes the Jazz
competitive. We tested both the CVT and manual transmission options and would strongly recommend the latter. The CVT's paddles work well enough, but it is overly noisy and this engine does need a bit of encouragement to get a move on. Stir the manual gearbox's short throw mechanism and acceptable performance can be encouraged from the 101BHP naturally aspirated unit, though doing this means there is notable engine noise entering the cabin. Like I said, the Jazz is not very good at being a racing car, but just like its predecessor, it is very good at providing honest and reliable transport. It has plenty of grip and Agile Handling Assist, a system that brakes the inside wheel around tight bends, makes the car feel manoeuvrable and sure footed. A handful of journalists and myself abused tested the 2015 Honda Jazz on a small handling circuit and found it to be rather unflappable. It is not the most engaging small car to drive, look in the direction of the Ford Fiesta for that, but it is consistent and well behaved. Around town it is in its element and requires very little effort to drive. Light control weights are a key contributor to this. Clear visibility is boosted by a rear view cameras on high spec models.
You can have a 2015 Honda Jazz from £13,495 or £139 a month which makes it keenly priced. Standard equipment includes; DAB radio, Bluetooth, cruise control and City Safe auto braking. It must be said that this micro machine is rather well endowed even in S trim. This cars biggest issue is that it finds itself in a highly competitive environment alongside the likes of the Fiesta, Mazda 2 and VW Polo. That said, none of those names offer the versatility and reliability of the Jazz. It has actually been the UK's most reliable car for 8 years running.
The Jazz has its merits, but it being the car for you comes down to what you prioritise.