We all have our favourite chocolate biscuit… You know, the one you default to every time you have a cup of tea or cheekily snack on at work. Just like anything, devouring the same biscuit day-in and day-out can become a bit boring and so you might decide to be a more adventurous the next time you go shopping. The premium car market is dominated by a small collection of German brands and just like your trusty chocolate digestive, one day you fancy something different. DS Automobiles aims to put French luxury back on the map and this 2016 DS 4 is their latest model.
Whilst we will have to wait a bit longer for all-new DS models to enter service, the DS 4 is
the next car to receive the rebranding. Dominating the external aesthetic are the new "DS Wings" which originate from the large chromed grill that then spread into the headlights. Scrolling indicators are a nice premium touch and makes the signature lighting more dynamic. Sculpted bumpers, large alloy wheels, and a curvaceous rear end creates a profile that is distinguished from the competition. New two-tone paint options also add the ability to make your DS 4 more individual. Overall these changes have made this hatchback more further upmarket as it now alines itself within the standalone brand.
The unique styling continues for the interior as a "watch strap" design, that has become synonymous with DS, patterns the semi-aniline leather. This leather is some of the best quality in the world. These comforting seats are heated and massaging to add to the opulence of the cabin. This DS 4 came with an extended windscreen which stretches over the front occupants heads letting in more natural light. New soft-touch materials line the dashboard, however, below the belt line some hard plastics can be found. A touchscreen infotainment system gives you access to everything from phone connectivity to navigation and DAB radio. Apple CarPlay comes as standard with every DS allowing iPhone users to interact with Siri as well as control their phone using a familiar interface. Mirror link is also available. The rear bench is not such good news as head room is restricted by a sloping roofline and the rear windows do not open. Its rear doors possess a narrow aperture which makes getting in and out more difficult than competitors. This criticism is the price that the DS 4 pays for its stylish design. A 385 litre boot with a large opening is a good size and boosts overall practicality.
On the move this 2016 DS 4 with its 2.0 litre engine is relatively brisk. There is a touch of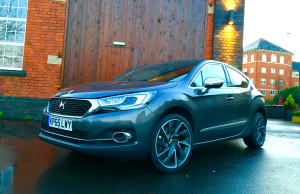 lag, but not much, and then off you go. 295lb ft of torque creates a real surging motion and makes this car feel faster than its on paper 8.6 seconds to 62 MPH. Our test car was equipped with a 6 speed automatic transmission which did a good job of selecting the correct ratio and engaging it smoothly. Click the stick over and it enters a semi-auto mode where the gearbox responds faster than its predecessors. At low speeds there is good weighting to the steering, but the ride is a tad on the firm side for a car such as this. That said, it does smooth out at speed. Using its 178 BHP on the motorway, an environment of which most DS 4s will ultimately live in, reveals a solid commuter. The whole affaire is refined and the previously mention torque makes short work of anyone holding you up. Whilst the steering might be a bit over assisted and lacking in feel when traveling at a pace, this DS isn't taxing to operate and on a long journey that is exactly what you need. Grip is not in short supply creating a further sense of ease behind the wheel. DS claim that this 2016 DS 4 BlueHDi 180 will do 64.2 MPG combined which isn't bad at all.
The 2016 DS 4  is not a perfect car, few are, and clearly it could do better in terms of ergonomics. But what you are getting with this package is something a bit unique, rather fashionable, and very French. Engine choices vary but we would strongly recommend this diesel. You can have one from £25,495 which clearly shows that it demands the premium money of competitors, yet the difference is that you won't find 10 of these clustered in a restaurant car park.