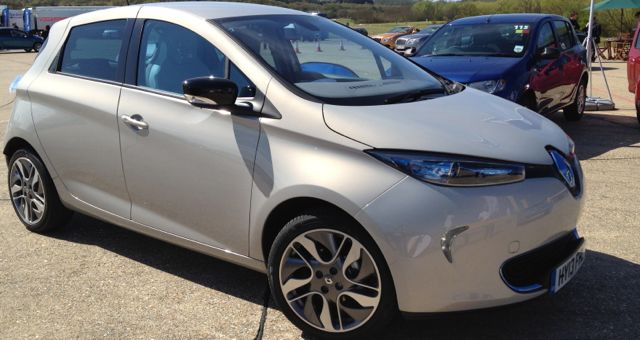 We have been told for quite some time now that electric cars are the future of motoring and the saviour of the polar ice cubes. But just how many electric cars have you seen on the road? One? Maybe three? The Nissan LEAF made a promising start to the mass market of the electric car sector, but there are two big drawbacks that outweigh an electric cars advantages. Firstly there is an issue with range anxiety, and then there is the price. Renault feel they have something that can step up to mark and become the leading electric car model.
World meet Zoe, Zoe meet the world. The long anticipated wait for this car to hit the roads is now over as this little EV comes to light. The Zoe is based upon the same platform as the new Renault Clio, no bad thing, and provides buyers with a funky supermini with all of the subtle neat design elements you might find on one of Apple's products. This car is capable of a 130 mile range (169MPGe) and thanks to its plucky little 87BHP electric motor, it will get you from 0-62MPH in 13.5 seconds. Not too bad considering all of that battery weight it has to carry.
Inside the clean styling is continued with a light interior and big windows. The console is logically garnished with controls and also houses the cars touchscreen interface. Sat-nav, stereo and in-car apps can all be accessed from from this monitor. Renault's little urban worrier seats five and thanks to its packaging of the battery, has plenty of interior space and a decent sized boot. The seats themselves are comfortable and though rear passengers do sit quite high, head and leg room are par for the class.
As with any 100% electric car, start-up is silent but the Zoe does emit an artificial noise as it goes along to warn pedestrians that aren't too keen on
looking where they are going. The sound is customisable but we found the one that sounds a bit like Marty McFly's hoverboard to be most amusing. The instant torque an electric motor provides is very intoxicating as upon the exit of a corner you can really slingshot the car out of it. There is a fair amount of body roll in tight corners but the trade off is a ride that isn't too firm. Road noise at higher speeds is a little more than you would like on a long motorway journey but whilst the Zoe may have a top speed of 84MPH, the city and everyday commuting is where it belongs. The steering is very light and the breaks with their energy recovery system do a very good job of stopping the car in a hurry. The overall driving experience is pleasant and comfortable with the biggest compliment  having to be that it feels like a normal car.
The Renault Zoe can be had for just £13,650 after government grants making it very affordable and competitively priced with similar diesel powered cars. Our test car was in top specification which included parking sensors, hands free key card, premium audio system, 16" alloy wheels and automatic wipers. Those toys brings out total for our car to £16,350 as tested, which if you think about it is still very well priced.
The Zoe is clearly a good car, and with a price point similar to its combustion counterparts, it is in prime position to compete for sales. However, Renault will ask a £70 a month fee for the lease of the cars battery, something not every buyer will be too pleased about. That said, if any thing were to go wrong with the battery at any point in the cars life Renault will replace it free of charge.
So there you have it, the Renault Zoe. Stylish, environmentally contentious and affordable.