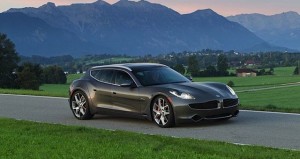 The fledgling but ambitious eco warriors, Fisker, are back for their second major venture after the much discussed Karma hybrid Sedan hit production this year. Whilst the green credentials are retained, there's something of the deep blue about this new model which debuted at Frankfurt today. The Surf Shooting Brake will expand on the Karma platform by offering the same combination of luxury, style and economy whist improving on the already impressive environmentally friendly image; the rear roof mounted solar panel increases in power to a 133 watt gathering unit which should serve to intensify the overly-smug smiles of the "look at me, I drive an electric car!" brigade.
However, true to form Fisker's newest arrival is about much more than just tree hugging. It offers practicality, something that was questionable with the Karma, thanks to a generous luggage space of 13 cubic feet expanding to anything up to a tardis-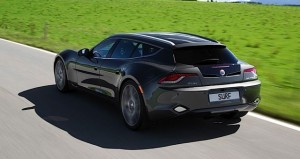 like 29 cubic feet for the motorist who doesn't travel light. The added space doesn't necessarily lead to the compromise of added weight and therefore little determent to the performance. This is important considering Fisker's aim to send the Surf in to battle alongside the likes of the strikingly similar shaped Ferrari FF in the Sports/Shooting-Brake crossover market. A baptism of fire it may be but although for now Fisker can't hope to match the performance stats of the Italian Stallion, the refined and beautifully muscular looking Surf is ready to fight flames with waves, and with its powerful environmental punch, will hope to capture a new market niche of it's own.
Fisker Automotive will offer the Surf in all its markets around the world from 2013 with prices rumoured to be around the £70,000 plus mark.